With our focus this week on great health, nutrition and looking into all things vegan and vegetarian, we have tried to find vegetarian-friendly products that would be just as relevant for those who prioritise health but may follow different ways of eating.
Today, we turn our attention towards a healthy gut.
A recent gut health survey was conducted by
Theronomic
, a company containing the latest scientific innovations behind a new concept for Australian markets. They revealed interesting data on Aussies' knowledge of this important topic.
Findings revealed the most commonly experienced gut health issues are bloating, by 42% of respondents, followed by digestive issues (28%) and constipation (one-quarter of individuals questioned).
Only 16% of those questioned were confident in their overall understanding of gut health, describing themselves as 'very knowledgeable'. Only one-third (33%) could explain what a microbiome is, while a notable 95% do not understand tribiotics and 83% aren't familiar with postbiotics.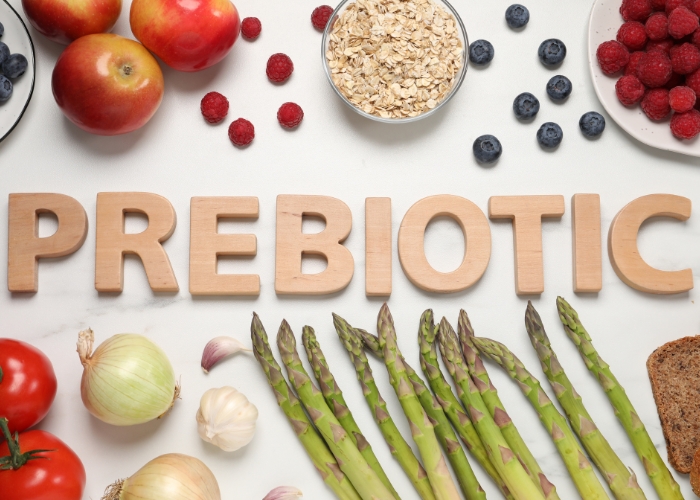 Why Do We Need Tribiotics?
International microbiome and postbiotics expert, Aubrey Levitt, explains;
"When it comes to drugs and supplements, the health industry hasn't been building complete products; we've been fixing holes rather than looking at what's wrong with the underlying structure. As we learn more about this specialist area of health, what's missing are formulas that address the full function of a healthy gut microbiome, when you have good bacteria in your gut that are being correctly nourished, it can help to keep you healthy in so many different ways. This tribiotic effect creates a complete medicinal formula containing all the elements needed to support a diverse, healthy gut".
What we realise now on a global level is something that gastroenterologists have been arguing for years - that the gut is connected to all of the human body's major operating systems and that by improving gut health, we can optimise other wellness areas, with significant results.
Think of the gut as a biological 'super highway' with links to all sorts of smaller roads; it's this centrally located organ with major significance that is interconnected with other crucial organs and systems within the body.
Microbiome Connections are Relevant for General Health & Wellbeing:
"The human gut houses hundreds of millions of neurons that establish communication with the brain, influencing metabolism and immunity. Its significance extends to areas such as obesity and blood sugar responses, immune and inflammatory reactions - underscored by the presence of 70%-80% of the body's immune cells within the gut. Numerous established correlations underline this impact: from heart health, cognitive performance and mental well-being to outcomes in cancer, autoimmune and inflammatory ailments, responses to medication, and even athletic prowess." says Aubrey Levitt, International microbiome and postbiotics expert.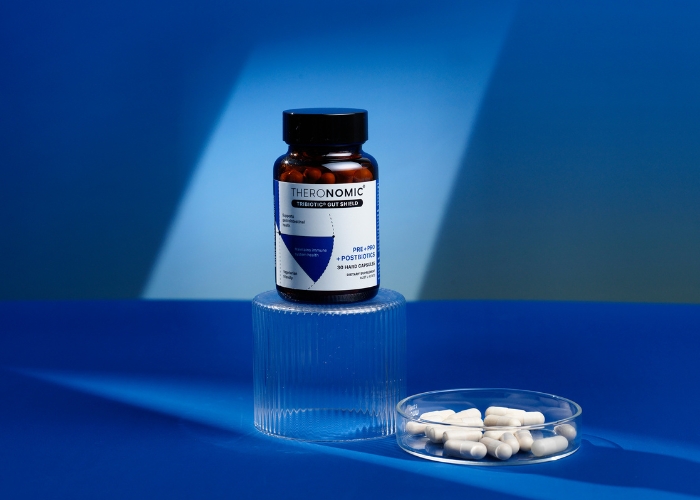 In Australia, we are somewhat familiar with the terms probiotic and prebiotic, although most people won't know the difference between them or why we need them.
Theronomic
is shaking things up by introducing Australia's first tribiotic health supplement and is vegetarian, hypoallergenic, kosher and halal certified.
With scientific innovation and clinical studies at something of a tipping point, industry experts have indicated we are likely to see soon an avalanche of products come to market in this category across different formats such as supplements, functional foods and drinks.
What is a Tribiotic Gut Shield?
Theronomic
Tribiotic Gut Shield contains pre, pro and postbiotics, which, when combined, create a tribiotic compound.
Livaux® is a clinically studied, trademarked ingredient made from the New Zealand golden kiwifruit pulp, commonly called a 'superfood.' This is freeze-dried into a powdered form and feeds a wide range of probiotics within the digestive tract. The kiwifruit pectin is slowly fermented along the entire colon length, benefiting the whole microbiome.
Additionally,
Theronomic
Gut Shield contains 15 probiotics and five postbiotics mentioned in more than a thousand clinical publications. These live ingredients work together to support overall GI health, weight loss, heart health, immune health and prevent infection. These ingredients have been sourced from Sacco System, a global bacteria and microbial therapeutics leader. It's a family business with seven global locations and has operated since 1872. They have 6500 strains of live cultures within their cell bank.