By Leigh O'Connor.
Two years ago, Spicers Hidden Vale's homestead burnt to the ground in a devastating fire, taking with it Homage restaurant.
Like a Phoenix both the restaurant and homestead have risen from the ashes and the effects of COVID-19, to offer a dining and holiday experience like no other – just an hour's drive south-west of Brisbane.
Ironically, this is not the first homestead to be engulfed by flames. The original building was burnt down 99 years ago and framed prints of the two previous homesteads now grace the walls of the new structure.
The beautiful new bespoke building embraces the history of the site with a timeless, yet thoroughly contemporary ambience…unfurling a legacy for future generations.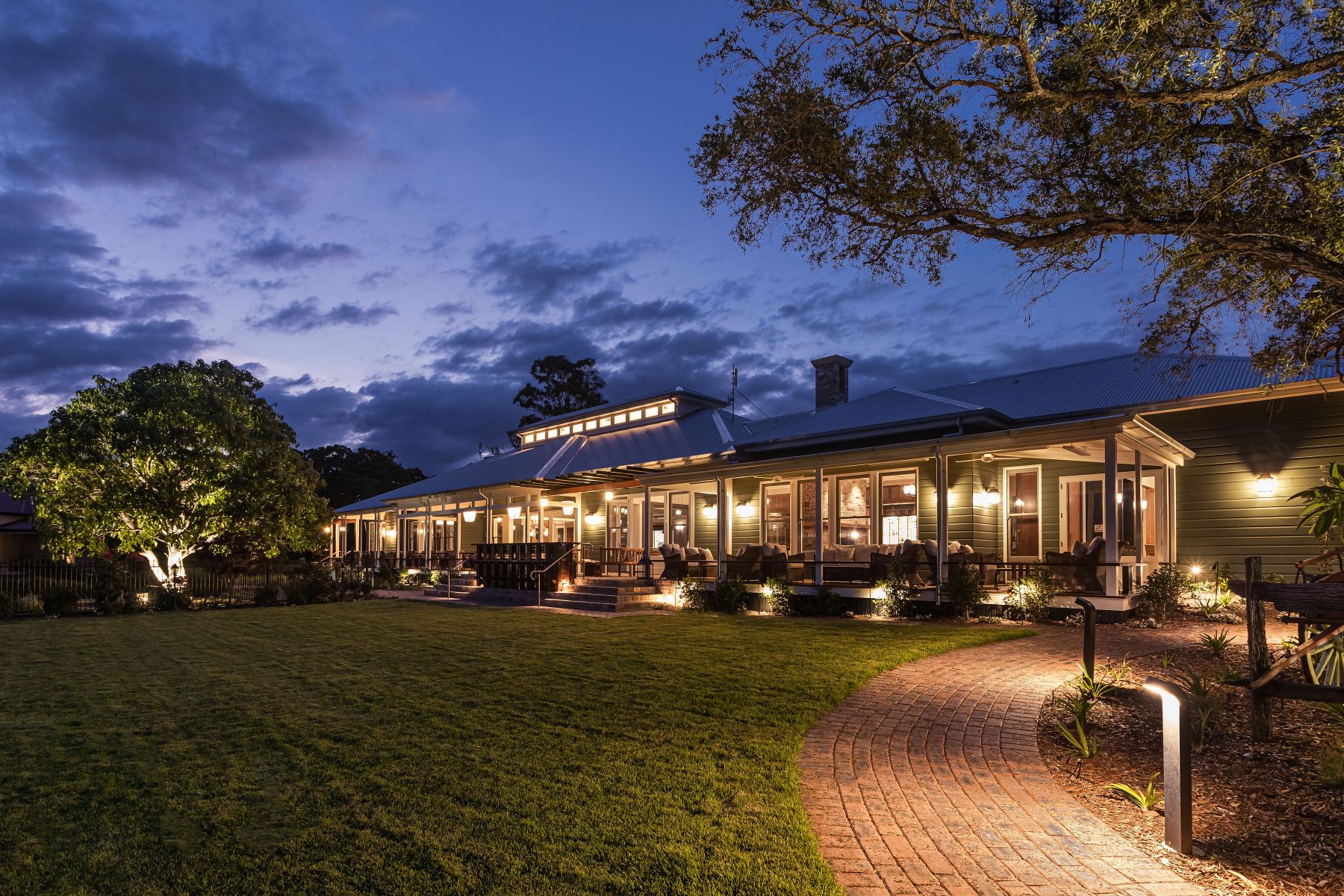 With Queensland Good to Go as a holiday destination for most of the country, why not take the trip to Spicers and immerse yourself in this patch of fertile farming country?
The one thing that hasn't changed at Hidden Vale is the stunning view beyond the infinity rock pool, brilliantly reflecting the setting sun at day's end; while the homestead's huge wall of doors folds back to draw your eye all the way to the Little Livingstone Range, taking on a blue hue in the far distance.
Find a breezy spot on the ample verandahs with a cocktail in hand while scenery gazing, or move indoors to an alluring lounge bar and dining area, like nowhere else in Australia. After dinner, retire to your room and cosy up in front of the fireplace to relax, enjoy and revitalise.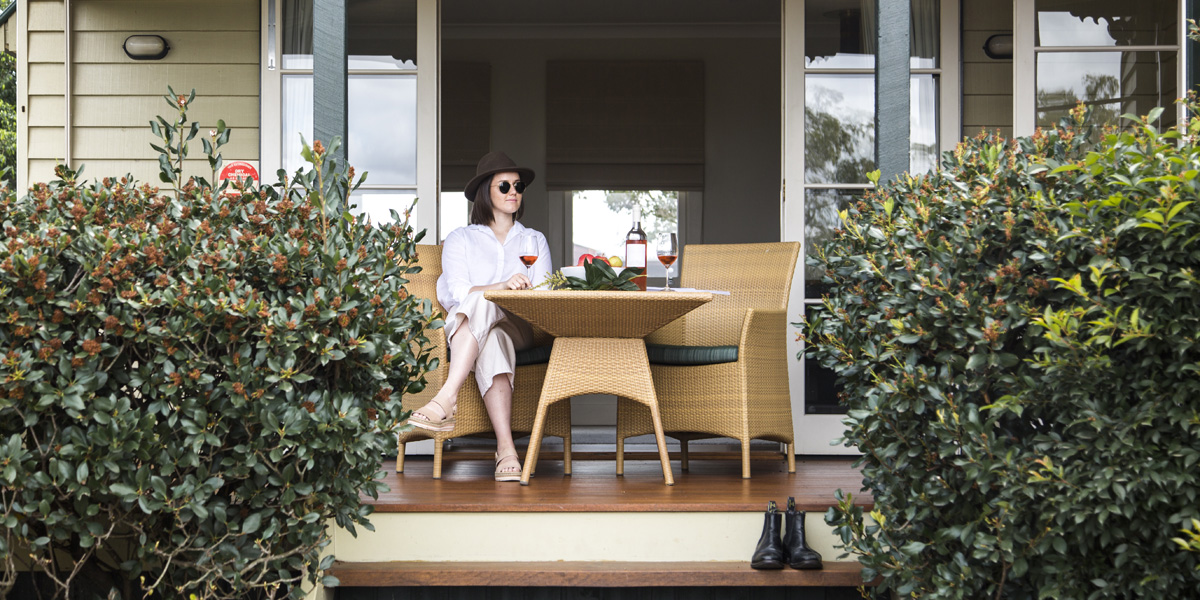 Since the fire, highly-awarded and Chef-hatted Homage has operated from a century-old barn on the property. Here, aptly named Executive Chef Ash Martin and his team have embraced a 'cooking with fire' concept – initially out of necessity because their ovens were destroyed – and now as a key theme of the new menu.
Ash takes inspiration from the culinary and visual landscapes of south-east Queensland, an abundant food bowl which allows him to connect guests directly to the land from their plates.
The new homestead kitchen includes an imported Mibrasa grill, fuelled by coals from local Mulgowie pruned olive trees, which continue to weave a fiery edge to Ash's thought-provoking creations.
Set on a 12,000-acre cattle property, fresh honey, fruit, herbs and vegetables are harvested daily from the Homage garden, fruit orchard, beehives, free-range farm and hen house; or sourced from a select few local producers.
"One of my greatest pleasures in the day is taking our guests on an evening tour of our market garden, the smokehouse and fermentation room," Ash says. "It's such a simple, direct connection to their experience in the restaurant.
"Our guests can't believe the exquisite views across the infinity rock pool through to the Livingstone Ranges and Cunningham Gap. When I arrive each morning and while I'm working at the pass, quick glimpses sooth the soul."
Homage is an experience of the landscape and its surrounds and Ash is dedicated to supporting those ethical local farmers, who are working with nature to deliver seasonal produce from across the region.
"I cook with what's seasonal, what's available here, right now," he explains. "I try to capture it at its peak and then preserve every bit of that goodness naturally, through smoking and preserving."
New dishes to tempt the taste buds include Rosevale beef brisket, sugarloaf cabbage slaw and citrus; along with coal-roasted pork collar, stone fruit and mustard, or lamb cooked over olive wood, served with pickled heirloom carrots.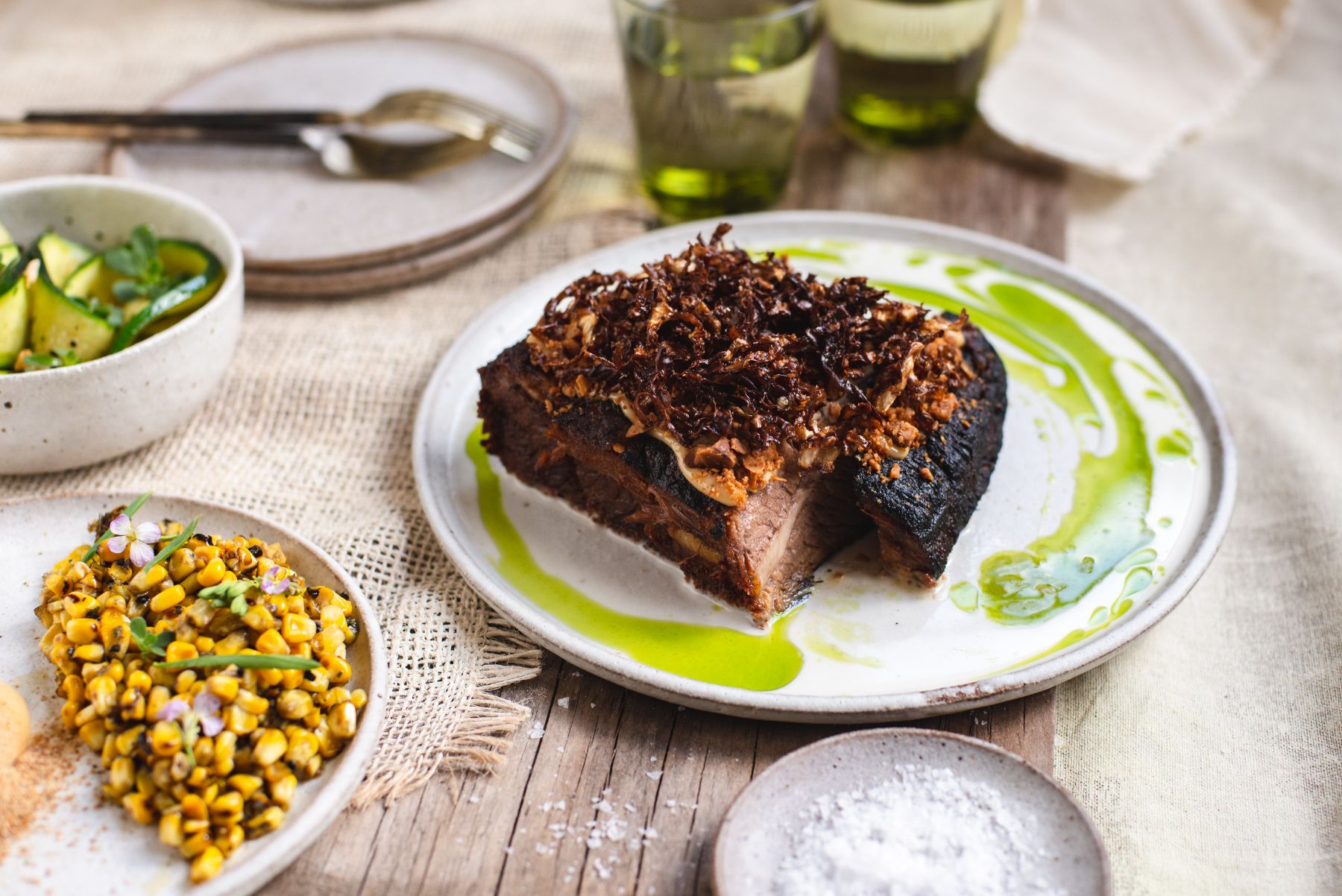 For a decadent finish, sweet tooths will be enticed by Rosella sourdough doughnuts and ice cream. Don't forget to pair your meal with a drop from the cellar, where 3000 bottles await your approval from a list of about 300 wines.
Sustainability is particularly important to Ash - Homage has a 99.9% food waste recovery through feeding onsite pigs and chickens; while garden waste is also composted on site.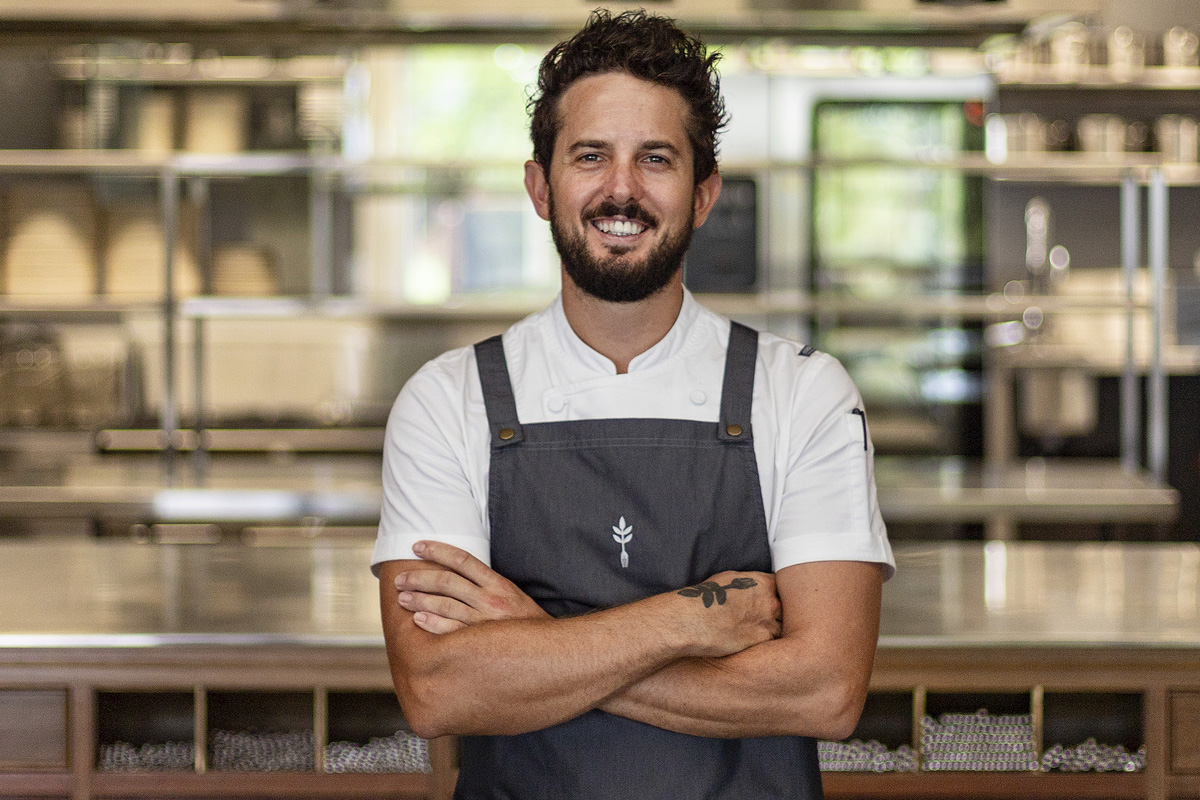 "We manage our entire supply chain, therefore we have achieved an amazing level of control over where our ingredients come from, how they're stored and prepared and how we take responsibility for waste, which is pretty much zero.
"Sustainability is absolutely the most important focus for the restaurant," he says. "We have a designated green team, we grown our own produce and we have engaged a third party, Mallow Sustainability to collect food waste, compost it and then we purchase produce from their farm."
These practices not only relate to the restaurant. Situated within a large nature refuge that is home to koalas and a eucalyptus plantation, Hidden Vale has become known as world-class breeding and release centre, aimed at the building the population of many native species.
So next time you want to get away from it all…discover a genuine regional adventure that combines a breath of fresh air with luxury, paddock-to-plate dining and a range of nature-based activities, at Spicers Hidden Vale.