Spring has sprung throughout the country and the Gold Coast's balmy ocean temperatures are currently at an average of 22 C, making it a truly delightful place to spend time, albeit a quick Father's Day getaway or a weekend away.
While on the coast, sip back and relax at the
JW Marriott Gold Coast Resort
& Spa's specially curated Spring High Tea Series, an exquisite three-part culinary journey, curated in collaboration with renowned Chef Peter Kuruvita (
ALBA NOOSA
) and Dilmah Tea.
The series has been split into three, with a fruit-inspired menu starting the series, followed by florals in
September
and herbs for
October
.
Celebrating the best of Spring produce, Peter has come together with JW Marriott Gold Coast's Executive Chef, Paul Smart to pay homage to his Sri Lankan heritage.
High Tea guests will be welcomed into the resort's tropical oasis, treated to three courses of delicious sweet and savoury canapés and can look forward to mouth-watering delights including:
•Char-grilled pepper chicken en croûte, Bombay fruit chaat with Dilmah lychee and ginger dressing.
•Red berry open choux.
•Grilled sea scallop, sautéed spinach with Davidson plum and yuzu butter.
•Smoked duck tart with freeze-dried raspberry and vincotto.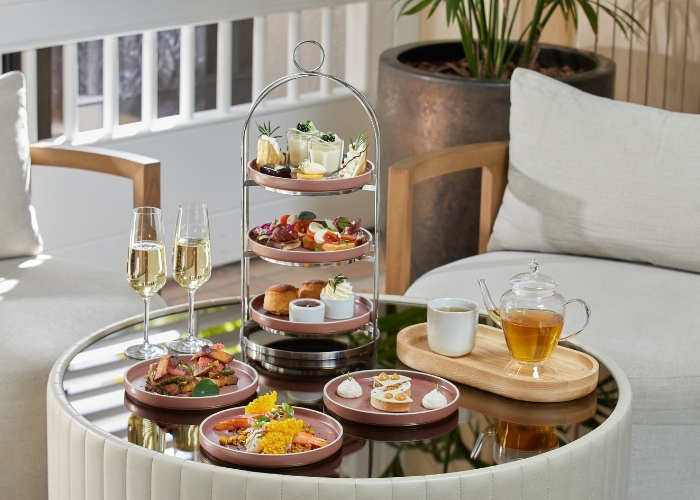 Staying true to JW Marriott Gold Coast's philosophy of food designed to nourish the soul, mindfully curated cuisine made from local and seasonal produce and sustainably sourced ingredients, the Spring High Tea series will hero the best produce of the season, combined with the innovation and creativity of two Chefs, both masters of their craft.
JW Marriott Gold Coast's Executive Chef, Paul Smart says: "From the beautiful French Champagne on arrival, to Peter's world-class menu and the delicious assortment of quality Dilmah teas, each moment has been thought out with attention and care to ensure our guests leave with a delightful Spring in their step!"