By Freya Ensbey.
Autumn brings with it specialty produce items, along with fresh releases of wine from the preceding seasonal wine harvest, creating a well-rounded synergy when skilfully paired together to enhance any dining experience. The idealistic concept behind this pairing is that particular elements, like that of flavour and texture in both the food and wine interact with each other, making the entire dining experience more enjoyable.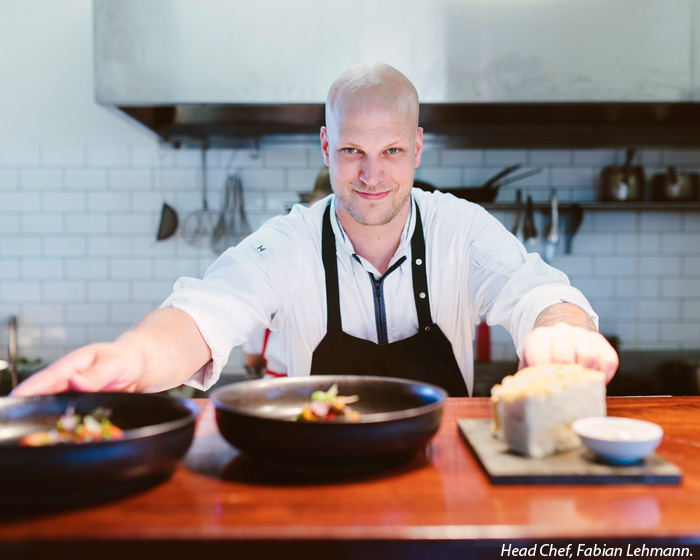 We thought, who better to step us through a paired menu, then a renowned resident restaurant set amongst an affluent winery, deep in the heart of South Australia's McLaren Vale? Maxwell's Ellen Street Restaurant is nestled in the Maxwell Winery estate, greeting guests with rolling lush rows of ageing grape vines as far as the eye can see, inviting them to peruse the vast property, basking in the warm glow of the sun, cutting through the chilliness of the Autumn air before heading into the restaurant to sample a seasonally paired menu.
With many years' experience cooking in fine dining restaurants in Germany and Norway, most notably Michelin Starred restaurant 'Oro' by Terje Ness, Head Chef Fabian Lehmann has a great passion for fine food and a broad level of experience after twelve years of working across the world in all different styles of restaurants and cuisines, working closely with the wine makers on site to create a well-rounded paired menu.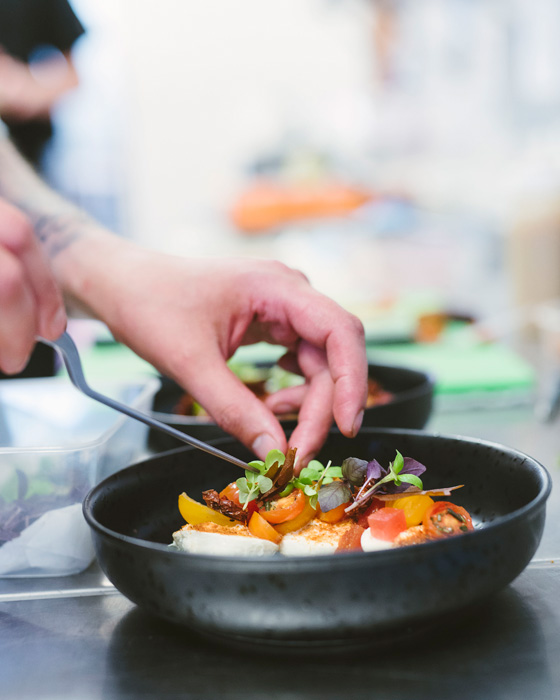 Begin your culinary journey with barbequed baby octopus with squid ink and burned butter accompanied by a 2016 Barrel Fermented Verdelho. Throwing aromas of citrus, melon and pear, this wine has a soft and creamy texture, returning from the oak maturation process of eight months.
Game lovers may opt for a succulent kangaroo loin with blueberries and macadamia, matched with a 2013 Eocene Ancient Earth Shiraz. This Shiraz is a deep purple/red with complex aromas of raspberry and mulberry, finished with lively flavours of plum, chocolate, vanilla and delicate oak.
Being sure to save room for dessert, finish with dehydrated yoghurt, passionfruit and white chocolate, matched with Maxwell's Honey Mead. With a delicate bouquet of floral beeswax and marmalade-like aromas, Maxwell's mead is ideally served over ice or can also be mixed with soda and lemonade.
View their full Autumn menu below, with suggested wine matching and book your table today.
BBQ Baby Octopus / Squid Ink / Burned Butter
2016 barrel fermented Verdelho
Trout / Carrot in texture / Watercress
2015 Adelaide Hills chardonnay
Lime Cave Mushrooms / Sous Vide Egg / Parsley Crumb
2015 four roads old vine Grenache
Free Range Pork / Cauliflower / Buttermilk
2015 little demon shiraz Grenache
Kangaroo Lion / Blackberries / Macadamia
2013 Eocene ancient earth shiraz
Dehydrated Yoghurt / Passionfruit / White Chocolate
Maxwell honey mead