By Leigh O'Connor.
Did you know ravioli are also known as pregnant stamps? On Saturday, March 20 we all get the chance to fill up on this fun and versatile pasta in celebration of National Ravioli Day.
Traditionally ravioli is made up of a filling sealed between two layers of thin egg pasta – imagine a small meatball tucked snugly inside two cosy layers of delicious dough. The filling can be anything from cheese to meat and the cooked ravioli are usually served in either a broth, or pasta sauce.
According to the Guinness Book of World Records, the largest round piece of ravioli ever cooked was made by an Italian restaurant in Volgograd, Russia in 2014; a whopping 109cm in diameter, it took 4kg of flour, 40 eggs and two cups of olive oil to make, while 2.3kg of ricotta cheese and 4.5kg of spinach were used for the filling
Here are four more fun pasta facts, along with five restaurants to indulge your ravioli cravings on Saturday:
•The earliest mention of ravioli is from the writings of a merchant from Venice in the 14th Century.
•The word ravioli comes from an old Italian word 'riavvolgere', meaning to wrap.
•Canned ravioli was pioneered by Italian-American Chef Boyardee in the 1930s.
•Ravioli appears in Indian cuisine, where it is prepared as a sweet with a filling of dried fruit, sugar and spices, then deep-fried in vegetable oil.
Head to
Vitalia's Italian Restaurant
on Palm Street in Cairns this Saturday, for signature housemade half-moon red ravioli, filled with fresh and cured Atlantic salmon, topped with rocket pesto, on a bed of salted ricotta. Alongside authentic pizza and pasta tempters, Vitalia serves up a full vegan selection at this Holloways Beach venue, where tiled floors, vibrant walls and mismatched shabby chic table settings make for leisurely dining.
There's also a chessboard black and white version of ravioli, made from squid ink, filled with potatoes and barramundi, topped with clams sauteed in Prosecco, Sardinian bottarga, saffron Parmesan fondue, chilli, lemon zest and toasted breadcrumbs.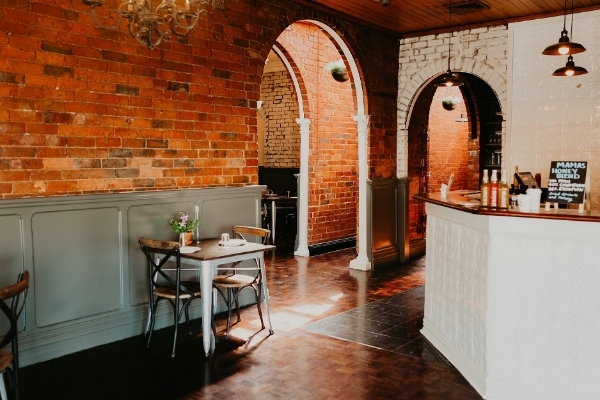 Get 20% off your bill when ordering ravioli on Saturday at Cugini's.
Fitzroy foodies can get 20% off their bill on Saturday when ordering
Cugini's
chicken, ricotta and spinach ravioli, served with a family sugo al pomodoro recipe, for either an entrée or main. This new bambino on Nicholson Street presents a rustic vibe of brick archways, dark wood furniture and copper pendents; formerly two homes now converted into a warm and welcoming dining space.
Also known as agnolotti in some parts of Italy, ravioli is just one of the pasta choices made freshly inhouse daily; be prepared to twirl a fork around other temptations such as pappardelle, veal and pork meatballs, or Roman-style carbonara, crisp guanciale, pepper and an egg-based sauce.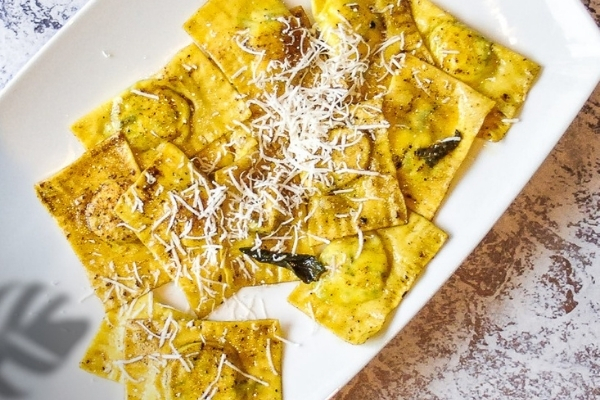 La la la's ravioli with burnt butter and sage sauce.
When craving Italian in the heart of Adelaide's CBD appease hunger pangs with ravioli, burnt butter and sage sauce at
La la la
on Gilles Street. Whether grabbing a freshly-made roll during the workday, or stopping by in the evening for dinner under hanging brass lights; expect Italian fare with flair like starters of salmon carpaccio, salsa verde, pickled radish and aioli.
For the main, delve into plates of spaghettini marinara – fresh seafood with garlic, chilli, tomato, parsley and wine – or veal saltimbocca, prosciutto, wine and sage; best washed down with a glass of Adelaide Hills Pinot Noir.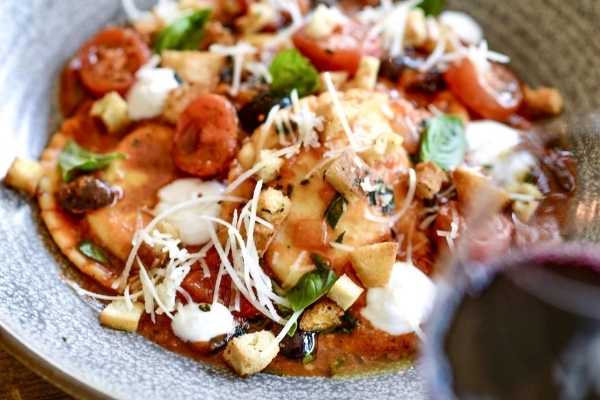 Rococo's housemade goats' cheese ravioli…buon appetito!
Gather family and friends together this weekend and head to
Rococo Acland Street
in St Kilda and
Rococo Glenferrie Road
in Hawthorn for a shared meal and good time. Artisan wood-fired pizza, antipasti and handmade pasta dishes await hungry diners, from authentic and traditional menus serving breakfast to dinner.
Choose starters like pea and pancetta arancini, provolone cheese and garlic aioli; before delving into mains such as housemade goats' cheese ravioli, tomato, black olives, goats' curd, pangrattato and fresh basil, or char-grilled seafood ravioli, in a creamy white wine sauce, with lemon, parsley and dill.