By Leigh O'Connor.
Oenophile, noun: a connoisseur of wines.
"Unless my judgment is sadly astray, the future of the Australian wine industry is in the hands of the First Families and others like them. This book brings the people, their histories, their wineries and their vineyards to life." – James Halliday, AM.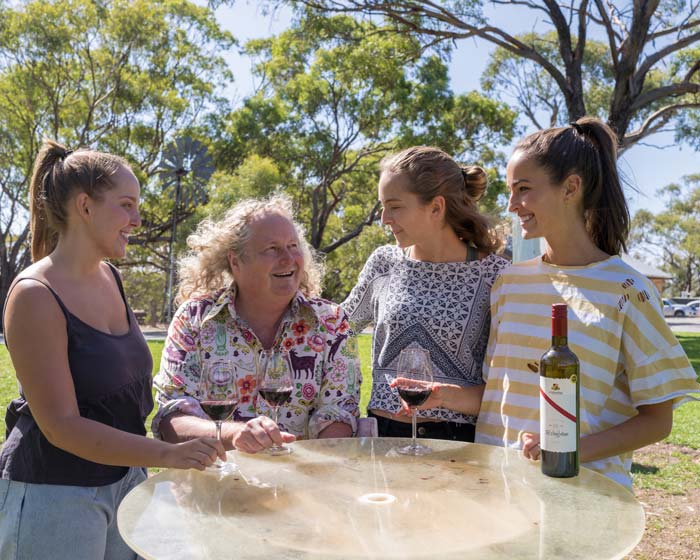 Ruby, Mia and Alicia Osborn, fifth-generation family members with their father, Chester Osborn of d'Arenberg.
For almost two centuries Australians have been growing grapes and making wine – generations of the same families have made their livelihood from the some of the country's finest vineyards from the far west of Margaret River to the Yarra and Hunter Valleys.
In 2009, the Australian wine landscape changed forever when the country's oldest family-owned, multi-generational wine businesses came together to form Australia's First Families of Wine.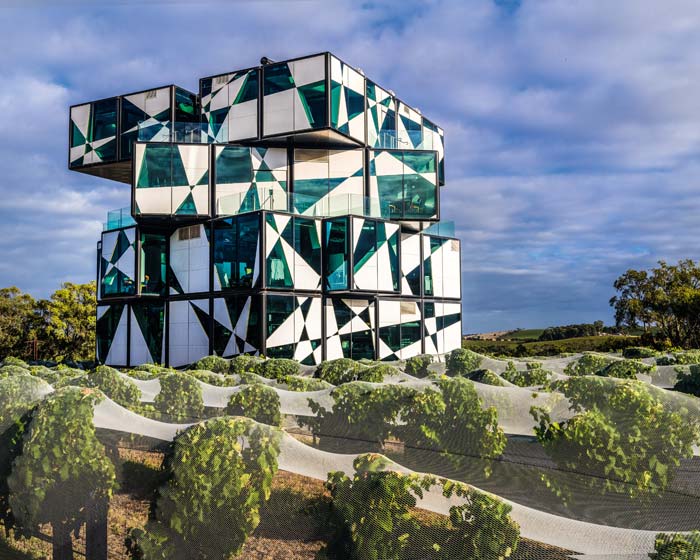 The d'Arenberg Cube opened in 2017.
Launched at the Sydney Opera House, the group aims to raise the profile of quality Australian wine, help appreciate the character and history behind the vineyards and to introduce the personalities behind these much loved and respected brands.
Now there is a book bringing to life the people, their history, wineries and vineyards – Australia's First Families of Wine, written by Richard Allen and Kimbal Baker.
With more than 5000 hectares under vine, these families operate in 16 wine-growing regions and produce some of this country's most recognisable household wine names like Brown Brothers, Tahbilk, Campbells, Yalumba, Henschke, d'Arenberg, Jim Barry, Taylors, McWilliam's, Tyrrell's and Howard Park.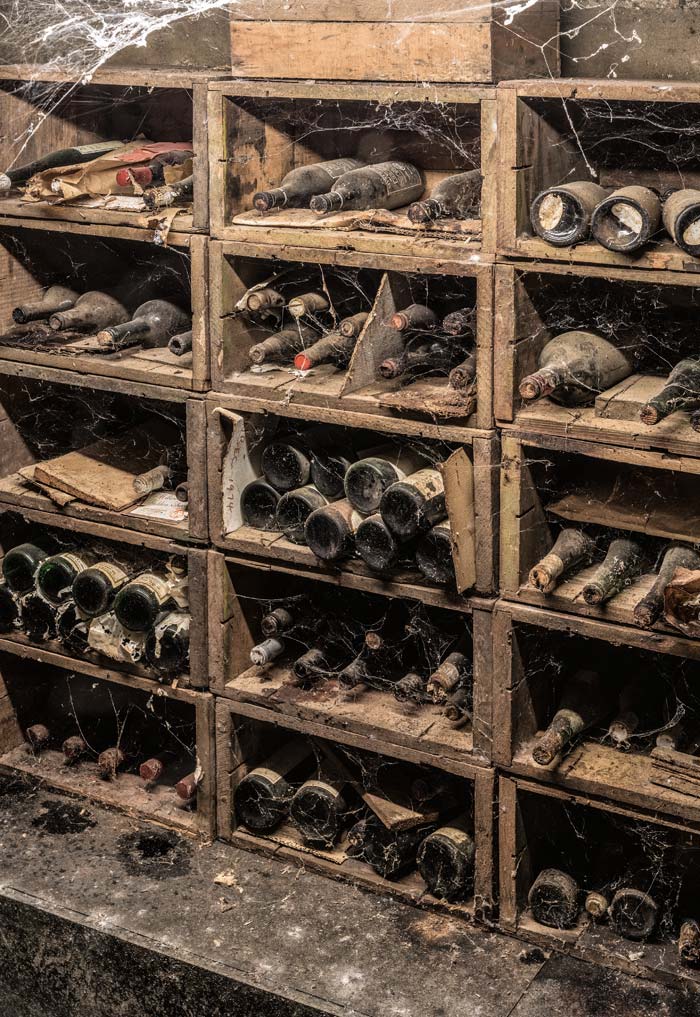 John Charles Brown's wine collection in the Old Winery at Brown Brothers.
This book showcases the colourful histories of these wine houses and details the challenges faced in taking old family businesses into the 21st Century. Let's look at one of the most recognisable names in Australian wine and how it all began…
In 1885, an audacious 23-year-old John Francis Brown persuaded his immigrant parents George and Rebecca, to plant Hermitage and Riesling vines in the fertile soil of King Valley, the rest as they say is history.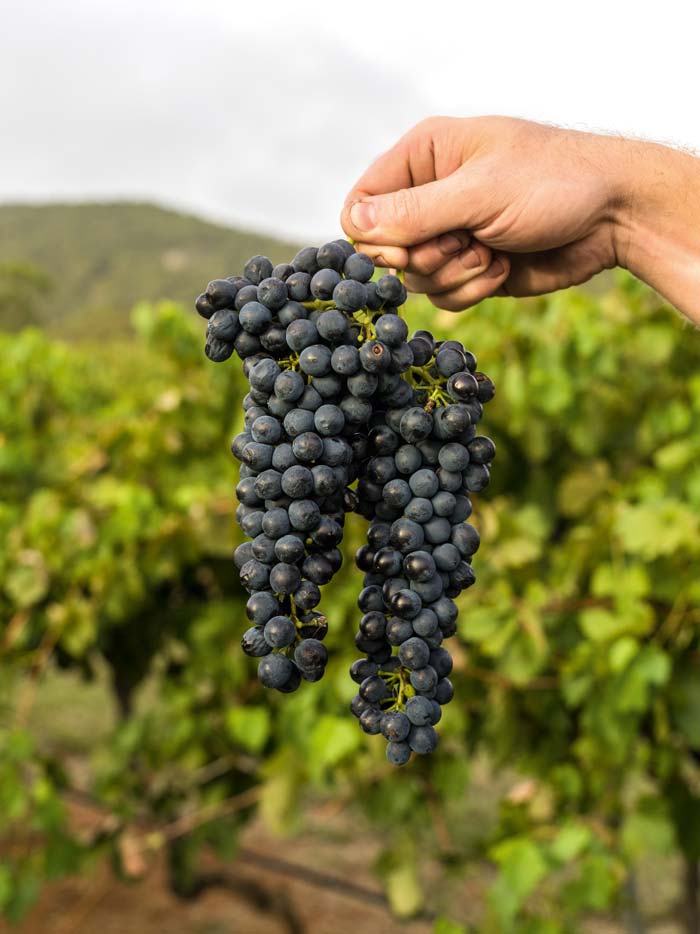 Old vine Shiraz from the Old Hill Vineyard, planted in 1880 at McWilliam's.
Convinced the valley's climate with reliable Winter and Spring rainfall was ideal for growing grapes and producing wine, John and his father planted just over four hectares of mostly Riesling, Muscat and Shiraz. What John lacked in winemaking experience, he made up for with optimism, energy, ambition, ingenuity and determination.
By the end of the 1890s, John had built a weatherboard winery and cellar, purchased handcrafted oak barrels, added a brick distillery and planted more table wine varieties.
Within another decade, there were more than 16 hectares under vine and Brown bought himself a Model T Ford, which he would be seen driving along the country roads.
Towards the end of World War I, phylloxera arrived in Milawa decimating the family vines; but demonstrating far-sightedness Brown had already planted resistant vines before the pest arrived, so production wasn't stopped as he ripped up the affected areas.
The family dynasty began when John married Ida Peady and had three daughters and a son John Charles – who went into the wine business alongside his father in 1933, establishing a bold partnership, making Tawny Port for London and table wines for Italian migrants in adjacent Ovens Valley.
He persuaded his father the way to increase sales and to reduce a reliance on expensive distributors was to open a cellar door, which proved extremely successful with the winery doubling in size; along with planting new varieties and buying grapes from other growers.
When his father died in 1943, John Jnr had effectively been running the business for several years. He married Patricia Mathews in 1939 and had four sons – John Graham, Peter, Ross and Roger – and as her sons grew up, Patricia developed an interest in matching food and wine.
With the help of her daughters-in-law, she began serving food at the cellar door; resulting in the precursor to Brown Brothers' popular Epicurean Centre, which opened in 1994.
All four sons followed their parents into the family business with John Graham becoming the winemaker, Peter took charge of the vineyards, Ross ran sales and youngest brother Roger specialised in grafting, before succumbing to cancer in 1990.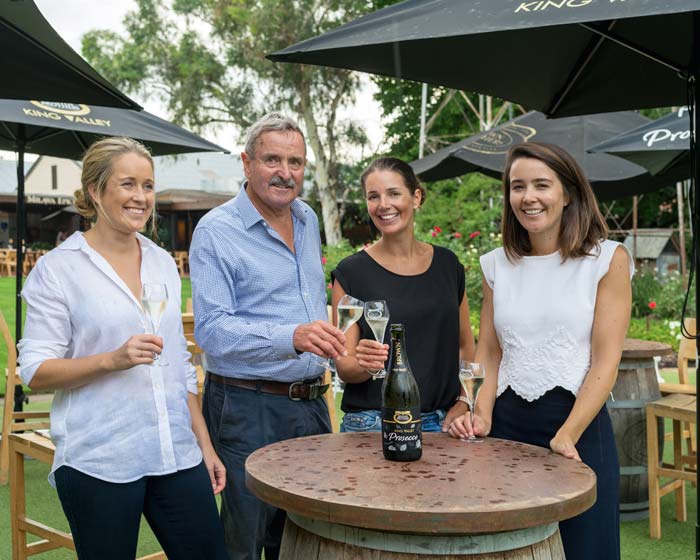 Ross Brown with (left to right): Emma, Katherine and Caroline, fourth-generation Brown family members, all currently working in the business.

Members of the next generation are now following in their forefathers' footsteps, celebrating the tradition of their ancestors while continuing to embrace innovation. Currently, the third and fourth generations of Browns work side by side, across winemaking, marketing and senior leadership.
"The wine industry is like the fashion industry," says Ross Brown. "Things come into fashion and then go out again. We are trying to set the fashion."
Looking to the future, Ross says climate change is a key challenge.
"Water is going to become scarcer and so we need to make sure our supply chain is linked to vineyards with water. We are picking grapes two or three weeks earlier than decades ago. Temperatures are higher and Winters are shorter."
Brown Brothers crush 16,000 tonnes of grapes a year, which makes one million cases of wine, sourced from four company-owned vineyards in King and Murray Valley and Heathcote regions. Turning over more than $115 million a year, there are 300 employees some of whom have been with the company for more than 40 years.
Key to Brown Brothers' success is the remarkable cellar door at Milawa, which attracts 100,000 visitors a year serving up a choice of 40 varietals. Fourth-generation family member and winemaker, Katherine says the cellar door is the testing ground and visitors the focus group.
"Although we love our history, few are also very aware that today's customer is king and we will do our best to produce what they want,' she says. "Once we get their feedback, we crank up production so we can be first to market. We live and breathe that philosophy if you are in the wine business and think that everyone will drink Shiraz and Cabernet forever, you will never grow."
This is just one family story, Australia's First Families of Wine shares with readers, accompanied beautifully by stunning photography and archive photos from 11 of the pioneers of winemaking in this country.
For those among us who take tannins seriously, this is a great Christmas present along with a bottle of choice.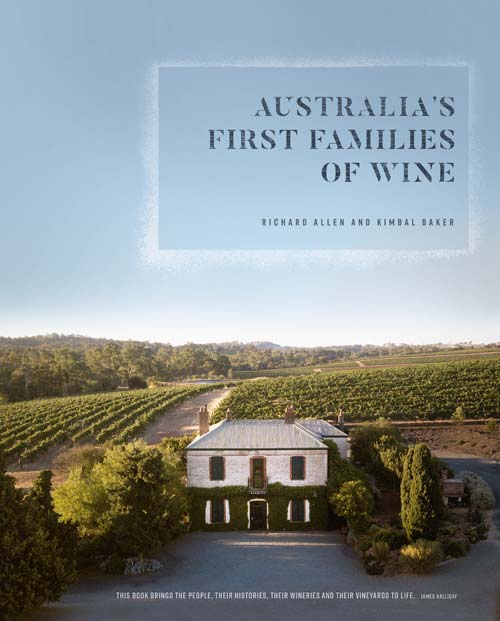 Australia's First Families of Wine is available now through all good booksellers. RRP: $69.99.