Let's all celebrate National Dog Day on Wednesday, August 25 by drinking wine and saving a rescue dog. Sound too good to be true?
With more than 31 rescue dogs waiting for adoption, Kate Johnson, manager of
Greys4Pets Rescue
in North Brisbane needs about $15,000 to feed and house them for the time they stay with her - on average between three to six months.
That's where you come in… if you love wine and would like to help rescue dogs then you can purchase a bottle of
Sit Stay Society Wine
for $10 from BWS and Dan Murphy's. Fifty cents from the sale of each bottle will be donated to
PetRescue
, who support and connect rescue groups with thousands of potential adopters; via their free adoption programs and services to help save the lives of pets in need.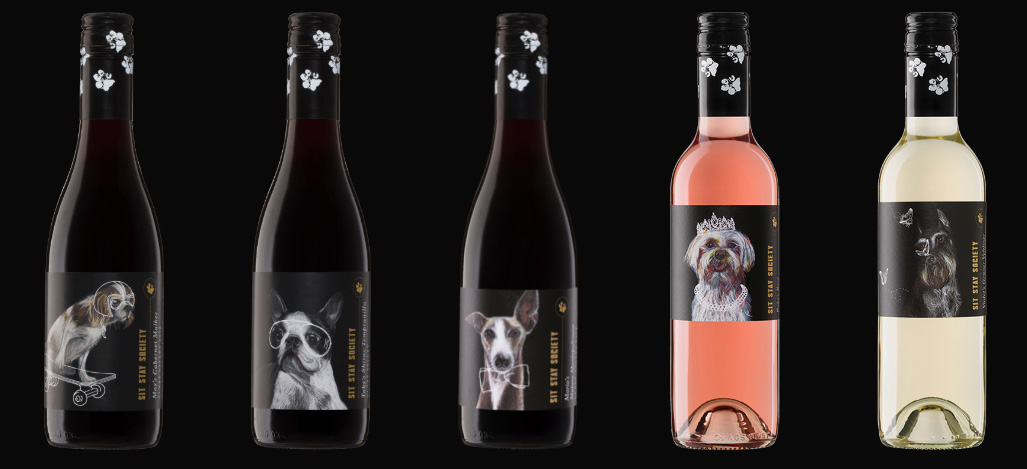 Caring for dogs such as six-year-old greyhound Tommy-Lee can be complicated - he has acidosis, a painful muscular condition that greyhounds often develop, when they have run too far, or too hard.
"Over six months, we nursed him back to health with food supplements in the morning and small helpings of meat and kibble with magnesium, twice a day. Slowly and with the help of a swimming program, his muscles and overall health improved," Kate says.
The good news is that Tommy-Lee now has a new home with a lovely family. For anyone looking to adopt a dog, Kate advises to do their research: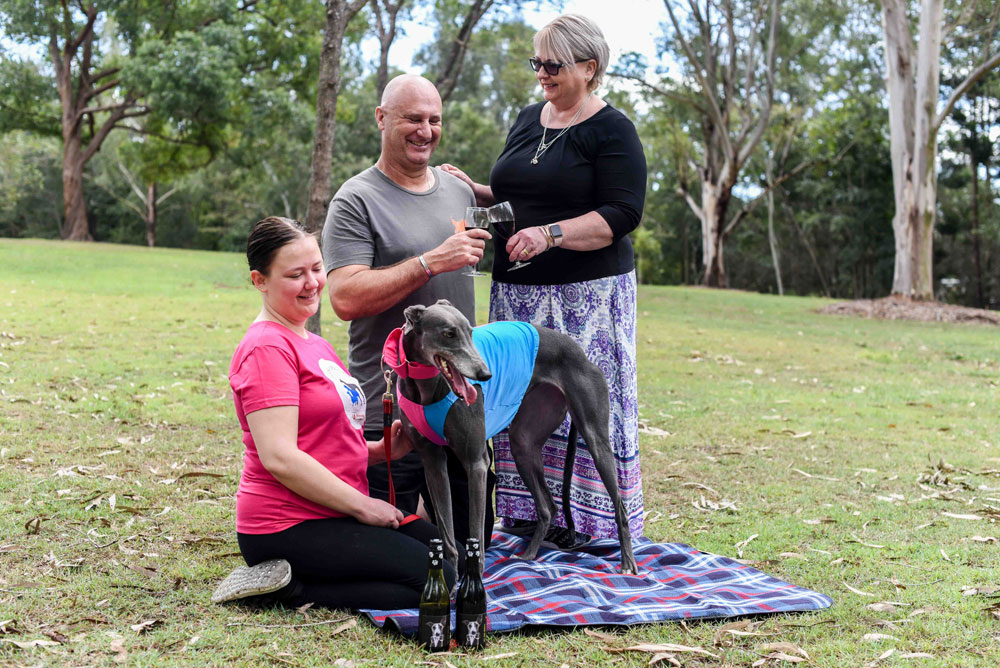 "Go along to your nearest rescue centre and meet the dogs so you can make sure they are a good match. If you have any doubts about adopting a dog, you can always foster. It's a great way to see how a dog fits into your family and give dog ownership a trial run."
Luke and Janeen McDonald from Wilston adopted three-year-old greyhound Luna, two months ago.
"From the first day, Luna was part of our family and claimed the lounge straight away as her favourite place to be. She is so loving and gentle and is still like a puppy. She loves her squeaky toys and hoards them in her bed, pouncing on them if anyone comes close. We are so blessed to have her in our lives," Janeen says.
Providing care for rescue dogs can take many months and a lot of resources, which can prove challenging for rescue groups.
"We rely on support from organisations such as PetRescue, who supplied two and a half tons of food to us last year, worth approximately $4500. This is an enormous help and with this type of practical support, along with PetRescue's adoption platform and digital services, which are free for us to use; it really is a key service that helps us save more animals," she says.
"Since Sit Stay Society Wines launched last year, the donations have contributed to PetRescue's national efforts, assisting 71,933 pets to be adopted; $731,167 worth of food to be donated directly to rescue organisations and 7423 calls for help resolved in the last financial year," said Vickie Davy, PetRescue co-founder and joint CEO.
Sit Stay Society Wines has just launched three new varieties to help pets in need - Ruby's Rosé, Violet's Grüner Veltliner and Mario's Mataro Montepulciano. The wine is available in 375ml half-bottle sizes and each bottle features a beautifully designed label, which pays homage to our four-legged friends.
For further information, visit: