By Leigh O'Connor.
"There comes a time in every woman's life, when the only thing that helps is a glass of champagne." ~ Bette Davis.
Australian women love their wine, be it red, white or that bubbly stuff that tickles the nose and encourages giggles of delight.
Sipping a cold beer is central to Australia's national identity – Aussies drink the equivalent of 670 Olympic-sized swimming pools a year! However, for most women, just the sound of a cork popping signals the start of a party, celebration or special toast, making bubbles the ideal choice to make Mum sparkle this Mother's Day.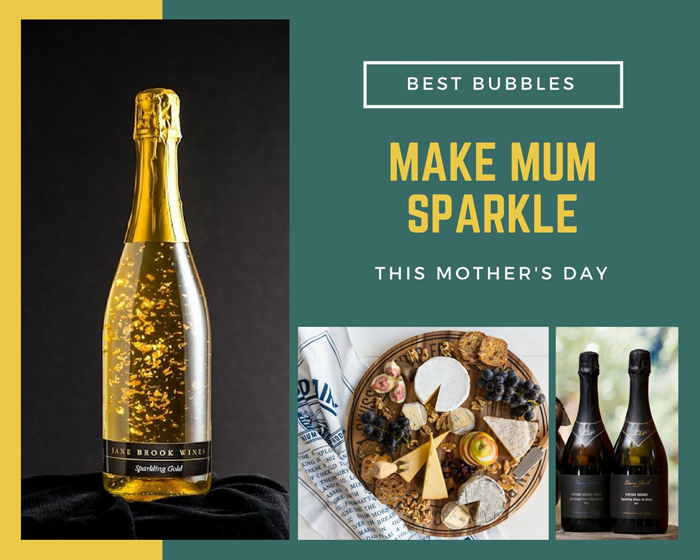 In the words of some influential people in history, bubbles are a necessity in life – not an extravagance:
"I only drink champagne on two occasions, when I am in love and when I am not." ~ Coco Chanel.
"Remember gentlemen, it is not just France we are fighting for, it's champagne!" ~ Winston Churchill.
"Come quickly, I am tasting the stars!" ~ Dom Perignon, monk and cellar master attributed with the discovery of champagne, upon first tasting it.
So, as we get ready to celebrate the importance of motherhood in our lives, we've put together a snapshot of some of the best Australian sparkling wines and cheese available to spoil Mum with bubbles and laughter come Sunday, May 13.
Make Mum feel like a million dollars with a bottle of Sparkling Gold, available exclusively from Jane Brook Estate Wines on Toodyay Road in the heart of the Swan Valley. This family-run winery has been producing award-winning wines for more than 45 years, along with fresh produce and picnic hampers available at the cellar door and pantry.
Made from Margaret River Semillon and Sauvignon Blanc grapes, glitzy and glamorous Sparkling Gold swirls with extravagant flakes of 23-carat Western Australian gold leaf and is presented in a handmade bottle from Italy.
On the nose, it has crisp notes of citrus, slightly charred orange, daisies, toast and a touch of caramel; while on the palate it is pretty, elegant and easy drinking with the flavours of granny smith apples. Try pairing this drop with 2018 Australian Grand Dairy Awards white mould cheese champion King Island Dairy Discovery Ash Brie, for a creamy and slightly nutty accompaniment to artisan crackers.
'Life is short – celebrate well,' is the motto of Leura Park Estate on Portarlington Road at Curlewis. Located on the picturesque Bellarine Peninsula, this boutique winery is renowned as one of the region's best, with a rustic cellar door offering wine tastings and live music every Sunday. From here, comes our second bubbles for Mum – Grand Vintage Cuvee Sparkling Pinot Chardonnay.
The red fruits from the Pinot Noir component are evident in the form of cherry, strawberries, green melon and grapefruit, while a fine bead and creamy texture result in this wine having great length and balance. Team this decadent drop with a classic mild soft unripened cheese like Dairy Award winner Montefiore Ovoline, from Victorian producer Montefiore Cheese at Thomastown.
Exemplifying the spirit of Swan Valley, Edgecombe Brothers Winery on Gnangara Road at Henley Brook, offers a range of wines including NV Sparkling Chardonnay at the cellar door. Nestled on the western entrance of the historic WA wine region and carving a reputation as a local icon, Edgecombe Brothers is more than just a vineyard with tasty fare from the café, or pick up some local estate-grown produce such as asparagus, broad beans and jam.
Treat Mum to this non-vintage sparkling, made in Blanc de Blanc style from Chardonnay grapes, with fresh fruit characters of apple and pear, for a refreshing and easy drinking drop. Start your meal with a glass of this breezy bubbles, enjoy it on its own at your Mother's Day celebration, or perhaps with a slice of award-winning Riverine Blue from Berrys Creek Gourmet Cheese, at Fish Creek in South Gippsland.
Want to find more bubbles to make Mum shine? Click here for a look at wineries around the country.