Whether it's a barbequed snag or a Vietnamese rice paper roll, the popularity of street food in Australia has soared in recent years with markets and food trucks all over the country serving up delicious fare for those on the go.
Try a plate of Asian street food on a Darwin beach at sunset, or chow down on a meat pie while walking the rows of stalls at your favourite Sydney market – whatever your appetite calls for, you can find it somewhere.
While brick and mortar restaurants still beckon for those intimate dinners with a special someone, there is no doubting the pull of wafting aromas from market vendors, or food trucks parked at footy games serving up tacos and gourmet hot dogs.
Let's trip around the country and check out some of the best street food markets to satisfy cravings for fast and tasty fare…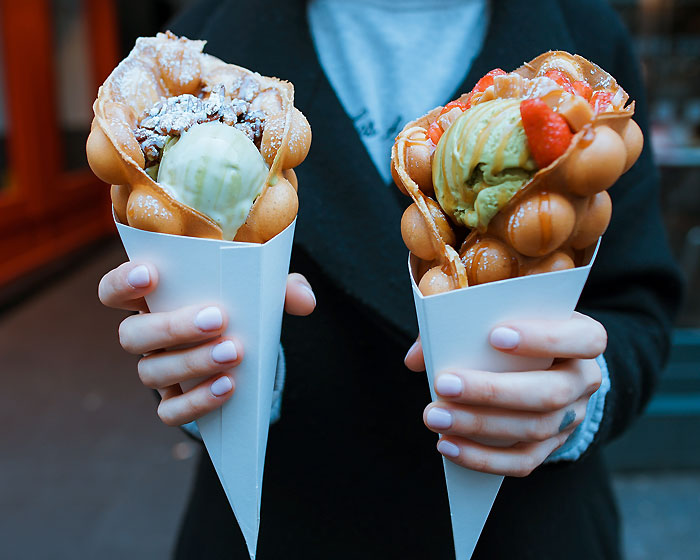 Sydney Street Food:
Celebrating the vast culinary cultures of those who now call Australia home, visit Addison Road Markets in Marrickville on the first and third Saturday of the month for authentic food from the likes of Egypt, Syria, Iran, Sierra Leone, Ethiopia and Colombia.
This street food market supports local refugee food stallholders, allowing them to share their culture and family recipes with Sydneysiders from the Gumbramorra Green venue, in collaboration with Addi Road Community Centre and Ignite! Settlement Services.
Entry is free, there is a licensed bar and live performances from bands and musicians start just after 6pm.
Iconic Bondi Beach is best known for surfing, sand and beautiful bodies, but every Saturday it also serves up gourmet grub at the Bondi Farmers Markets. This ideal pre-beach alfresco bistro tempts with everything from dumplings to gelato and freshly baked bread, along with organic vegetables and a wholefoods market.
Located in Flemington's undercover car park on the first Saturday of each month, Paddy's Night Food Markets serve up Forknflava feeding hungry visitors with the best gourmet food trucks from around the city.
From burgers to Australia's largest hot dog and satay chicken with rice, visitors can eat their way around endless culinary delights, while car enthusiasts are also taken care of with Automotive Dimensions partnering with the markets to bring the hottest cars to selected events.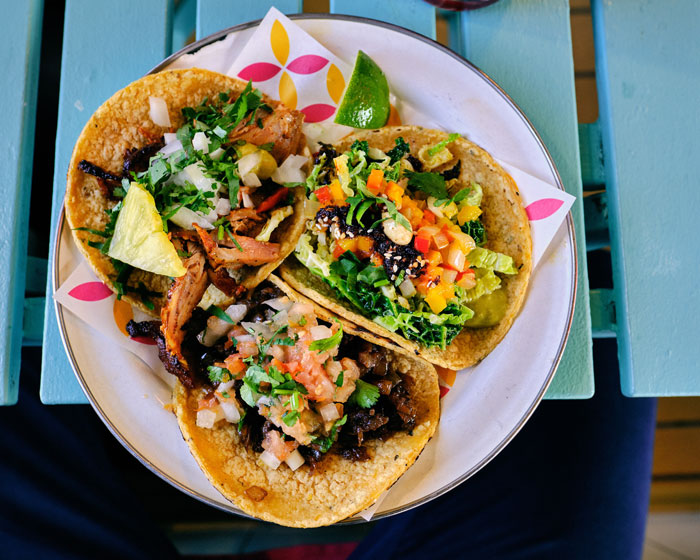 Melbourne Street Food:
Broaden your palate and take social dining to a whole new level at Welcome to Thornbury, Melbourne's first permanent bar and food truck stop. Opening in 2015 in the old Morris Minor factory, it is now the city's second largest beer garden and each month more than 80 different food trucks rotate on a daily basis, with 5-7 on-site at once.
Expect to tuck into street food tempters such as Southern-style fried chicken, Philly cheese steaks, all things Mexican and wood-fired pizza, enjoyed with a drink of choice and DJs on Friday nights during Summer.
Southside Melburnians with a hankering for street food head to Hank Marvin's on Saturdays at Alma Park East in St Kilda and Dendy Park in Brighton East on Sundays. Yakitori chicken skewers, vegan pizzas, baos and waffles all sit side by side with organic vegetables, craft beer and Hallelujah coffee, while those looking for an artisanal gift won't be disappointed either.
There's even a Canine Wellness Kitchen for all your four-legged furry friends at Australia's first food truck for dogs with homemade dog food recipes, healthy dehydrated snacks and treats and 'Freddie's Froth' bone broth.
During Summer, Melbourne's original and favourite Queen Victoria Market hosts more than 60 global street food stalls on a Wednesday night, along with specialty shopping, festival bars and a rotating line-up of live music and entertainment.
Soak up those balmy evenings with a range of plates sure to entice all appetites, like chicken wings, noodle dishes, pierogi, churros, jerk chicken and much more, best paired with a Brick Lane Brewing Co One Love Pale Ale.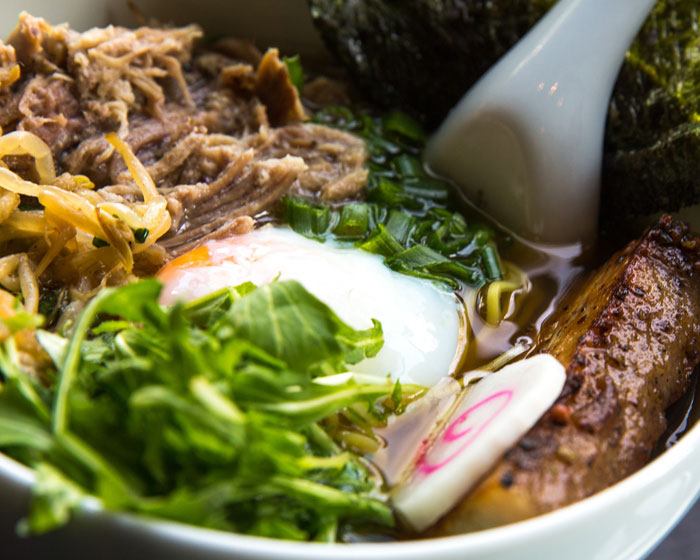 Brisbane Street Food:
Take a trip around the globe at Brisbane's Boundary Street Markets in the West End, on Friday, Saturday and Sunday. Delicious sweet and savoury delights from Romania, Turkey, Malaysia, Sri Lanka, Taiwan, Japan, France and Brazil await, as well as vegan and gluten-free specialties.
There's cold beer, a kids' play area and live music to accompany food options like gozleme, authentic curry, barbequed lamb in a cone, Transylvanian cheese pies and more.
There's nothing quite like Eat Street anywhere else in the world – priceless city and river views surround the 180 dining and entertainment shipping containers located on Macarthur Avenue in Hamilton. Open every Friday, Saturday and Sunday, more than 70 vendors create delicious dishes from all over the world, including vegan, vegetarian, gluten and dairy-free and halal.
How about Peruvian seafood paella with chorizo, or perhaps Vietnamese beef pho soup followed by a pork belly banh mi? Those with a sweet tooth can pick up a slice of Nutella and Oreo cheesecake, or a Golden Gaytime cronut – 64 layers of hand rolled Danish pastry cone, filled with Golden Gaytime soft gelato.
Hobart Street Food:
If it's not produced in Tasmania, you won't find it at Street Eats @ Franko in Hobart, where funky stalls with street food menus showcase the island's rich and abundant food offerings, perfectly paired with Tasmanian craft beer, cider or cold climate wine.
Rich Indian curries served in a pocket bread cone, traditional Zimbabwean food cooked on the braai, Greek food rooted in traditional cuisine and American grill Tassie-style – it's the ideal place to kick off the weekend with live music on Friday nights from an eclectic mix of musicians.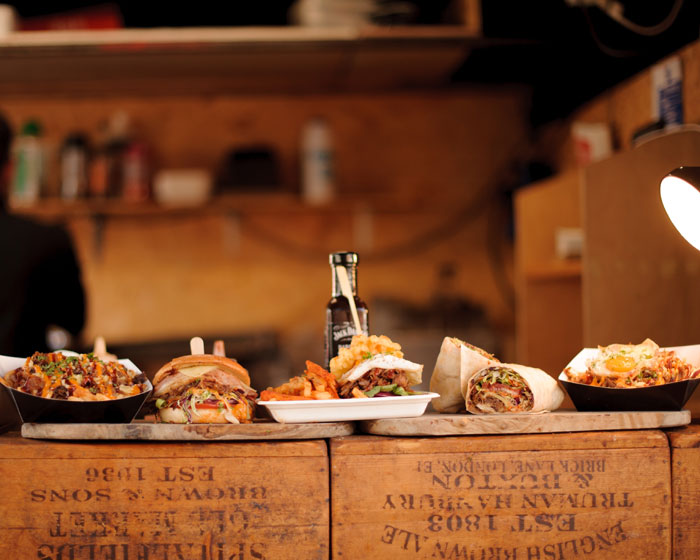 Perth Street Food:
The Twilight Hawkers' Market is Perth's original and biggest street food market, bringing the tastiest food from around the world to the heart of the city on Friday nights during Summer. Held in Forrest Place, meet friends after work, grab a bite to eat or bring the family to enjoy authentic and delicious fare, with live local music to add to the atmosphere.
What's for dinner? How about a Moroccan tagine, French pastry, gluten-free doughnuts or crispy roast pork noodles… life's too short not to get a double scoop of gelato or sorbet!
Darwin Street Food:
Mindil Beach Sunset Market is a modern-day market in the heart of the tropics, located on the iconic strip overlooking the beach, shaded by coconut palms. Stop by from Thursday to Sunday and with a motto of 'live the lifestyle', these markets are Darwin's number one most visited tourist attraction, especially after dark during the dry season when everyone comes out to play.
A Mindil tradition, Loukas Souvlaki has traded at the market for almost 30 years, bringing the taste of Cyprus to the Top End with rotisserie chicken and succulent chunks of lamb on the bone; or perhaps the more adventurous will try a gourmet crocodile or kangaroo burger from The Roadkill Café.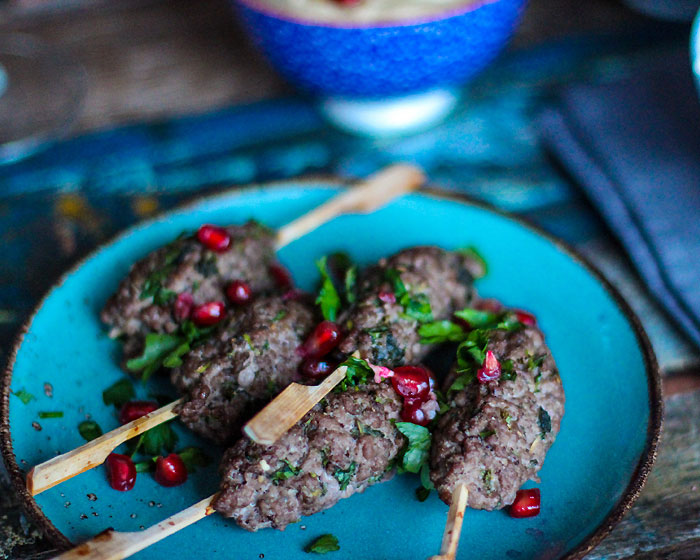 Adelaide Street Food:
On Wednesday, Friday and Saturday, magic happens at the old Clipsol building in Bowden just outside Adelaide's CBD when Plant 4 hosts fantastic food stalls, locally grown fruit and vegetables and live acoustic music. The in-house eateries are permanent sites on the ground floor and range from sustainably conscious My Grandma Ben café to Kome Kome – serving healthy Japanese tapas.
Tasting plates, breakfasts and authentic Greek sweets are on offer at Voula's, while at San Jose Small Goods you'll find the jamon, salumi and bocadillo bar, where you can taste award-winning artisan products or simply buy them to take home.
Spanish paella is freshly cooked in front of you and a changing selection of tapas plates and Portuguese assado dishes are available, along with breakfast on Saturdays.
Canberra Street Food:
The Forage is a foodie market held every few months in the Dairy Road Precinct in Fyshwick. Showcasing street food by Canberra cafes, food trucks, wineries and breweries, the market brings everyone together in one location to enjoy not only fine fare but also high-quality entertainment from local movers and groovers.
Perhaps try a beer from a local brewery and watch your dinner cooked in front of you at wood-fired oven trailers, BBQ and food trucks – try a healthy bao, poke bowl of goodness, or fried chicken drizzled with chilli mayo. Wrap your hand around South American style loaded grilled corn on the cob, before a whipped cheesecake cone with strawberry sauce.
Don't see your favourite? Contact us and tell us all about it!