By Leigh O'Connor.
A glass of sparkling wine is the best way to celebrate a special occasion such as ringing in the New Year – just the sound of popping open a bottle feels festive.
As Prince Philip, Duke of Edinburgh, once said: 'Champagne and orange juice is a great drink. The orange improves the champagne and the champagne definitely improves the orange.'
While Lily Bollinger, former manager of the Bollinger Champagne house, was more expansive:
'I only drink champagne when I'm happy and when I'm sad. Sometimes I drink it when I'm alone. When I have company, I consider it obligatory. I trifle with it if I am not hungry and drink it when I am. Otherwise, I never touch it – unless I'm thirsty!'
Whatever the reason, bubbles tickle the nose and the party with endless hours of good times. Here's six top drops to make your New Year's Eve sparkle.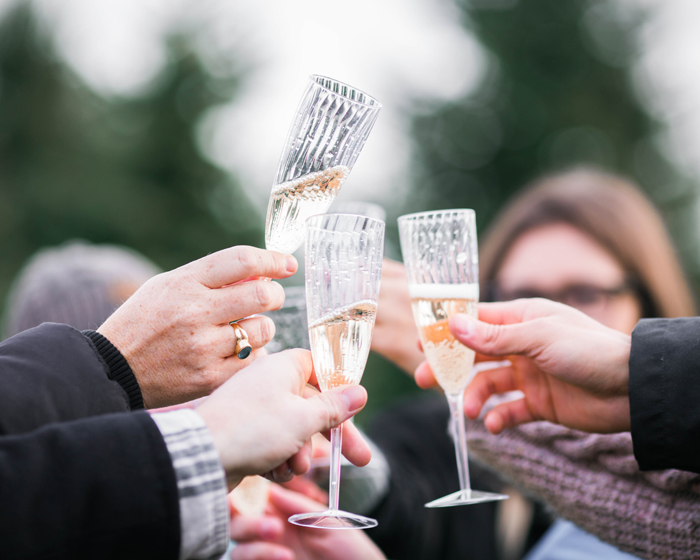 2017 Funkelpunkt:
From Chaffey Bros Wine Co in Barossa's Eden Valley, comes this energetic fizz – a blend of Riesling, Kerner and Gewurztraminer varieties. Co-fermented and finished with a superfine bubble, this wine has citrus and tropical flavours and a cute lift, enhanced by a mineral and mouth-watering finish.
This small batch vintage is dry (brut), crisp and refreshing and an ideal accompaniment to your New Year's Eve platter of caviar, smoked salmon, cheese and tangy, fruity condiments.
2013 Courabyra 805 – Pinot Noir Chardonnay, Pinot Meunier:
This single vineyard wine won the trophy for the Best Sparkling at the 2017 NSW Wine Awards for its rich elegance, creamy texture, citrus and stone fruit flavours and a clean, crisp finish. Produced by Courabyra Wines in Tumbarumba, one of the country's premium cool climate growing regions, the area is ideal for the production of high-quality sparkling and table wines.
Champagne and sparkling wines typically pair well with seafood, salty or creamy dishes, so serve this drop with rock oysters, saltwater vinaigrette and wakame.
Jane Brook Sparkling Rosé:
Malbec and Cabernet Sauvignon grapes have been used in this bottle-fermented sparkling wine from Jane Brook Estate Wines in Western Australia. From the estate's second vineyard at Margaret River, this bubbly is scarlet red in colour, with a nose of fresh cranberries, sarsaparilla and violets; while on the palate it is fresh, delicate with a long clean aftertaste and well-balanced fruit sweetness.
The wine was disgorged quickly to preserve its youthful, vibrant flavour and colour; it is great chilled and served now, or can be cellared for up to three years. Rosé sparkling wines are some of the most versatile for food pairings – try this one with chocolate covered strawberries.
Shimmer Sparkling:
An ideal celebration wine best enjoyed in great company, Shimmer Sparkling from the Swan Valley is a new addition to the Olive Farm Wines stable, made as an easy-to-drink style to suit most palates. The acid structure of Chenin Blanc lends itself perfectly to sparkling styles and this bubbly has a pale straw colour with green tints and a persistent bead.
On the nose, it has notes of passionfruit and orange pastilles, pears and bread dough; while the palate is refreshing with a creamy mousse and ripe peach taste. Shimmer matches well with most canapes and soft cheeses, such as brie.
2016 The Hunt for Mrs Oliver Fiano Methode Traditionelle:
This 2016 drop is Oliver's Taranga Vineyard's first sparkling release in their 175-plus year history of producing wines in McLaren Vale. Methode Traditionelle means the wine is bottle fermented so the bubbles are created by yeast during a secondary fermentation and this wine was handmade in very small quantities for a limited offering.
It has aromas of lemongrass, ruby grapefruit, buttered pine nut, toast, mangosteen and lychee, while on the palate it presents a nutty lemon tang, fine bead and round savoury finish – perhaps pair with smoked salmon blini, or prawns.
2015 Pandemonium Estate Moscato:
Moscato is a wonderful Italian style of sparkling wine that is low in alcohol, soft and flavoursome on the palate and this drop from Pandemonium Estate in Swan Valley is ideally enjoyed on a warm Summer's afternoon, or with Sunday brunch. It has a light frizzante feel on the palate, intense red fruits with pronounced floral, rose petal and white musk on the nose.
It's a drink now Moscato with plenty of flavour and a dry, medium to long finish; best enjoyed with Asian food with a little spice.
Cheers! Happy New Year everyone!