By Leigh O'Connor.
"I believe food is supposed to make you happy! Whether it's love at first sight because it's so pretty or colourful, or at the first hit of flavour when the food bursts in your mouth, food is here to put a smile on our faces." – Bettina Campolucci-Bordi.
Growing up in East Africa, Bettina Campolucci-Bordi's earliest memories are of barely wearing shoes, weekends at the beach and following her mother to the local markets, where she would haggle with stallholders to get the best possible price.
"My mother was sharp and pretty hard core when it came to negotiating and everyone at the markets always knew she was coming," Bettina says. "Looking back at it now, I can appreciate how lucky I was and what an idyllic childhood I was able to experience."
Born with a passion for food and brought up across several cultures by a Norwegian father and Danish-Bulgarian mother, cooking has remained a constant pleasure in Bettina's life.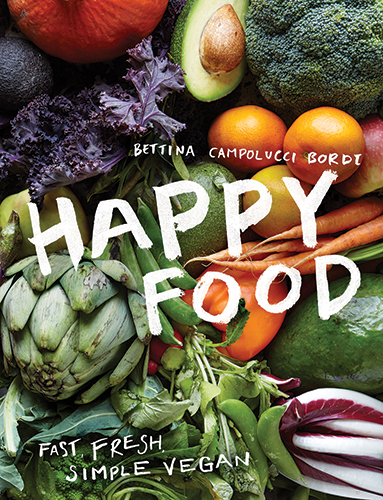 In her debut cookbook Happy Food, she explores fast, fresh and simple vegan recipes that anyone can prepare for family and friends.
"Happy Food is a cookbook for everyone – from grandmothers with newly-converted vegan grand-daughters coming over for Sunday dinner, to couples who want to increase their veggie intake, single people looking for a quick meal after a long day and families wanting to enjoy a meal together, without compromises on comfort and taste."
From making homemade jams and pickles as a child and catering for family dinner parties as a teenager, Bettina went on to study and work in the food industry, managing several catering businesses.
After being diagnosed with Polycystic Ovarian Syndrome and Endometriosis, Bettina looked at her lifestyle and approach to food. Searching for ways to heal her body and mind, she set up health retreats where she adapted a new approach to fresh, plant-based food – avoiding gluten and using alternative sweeteners.
"The recipes in my book are a combination of my philosophies. I believe you feast with your eyes first, so making food look pretty on your plate is important when it comes to self-care and it is a lovely touch when cooking for yourself, family or friends."
When it comes to flavour, she tries to combine the five tastes of sweet, sour, salty, spicy and bitter, to satisfy taste buds and dish up an ultimate foodie experience. Texture is also super important – a bit of crunch on a curry, a dollop of creaminess on porridge and a drizzle of syrup on pancakes, create an extra layer that makes a dish more fun and interesting.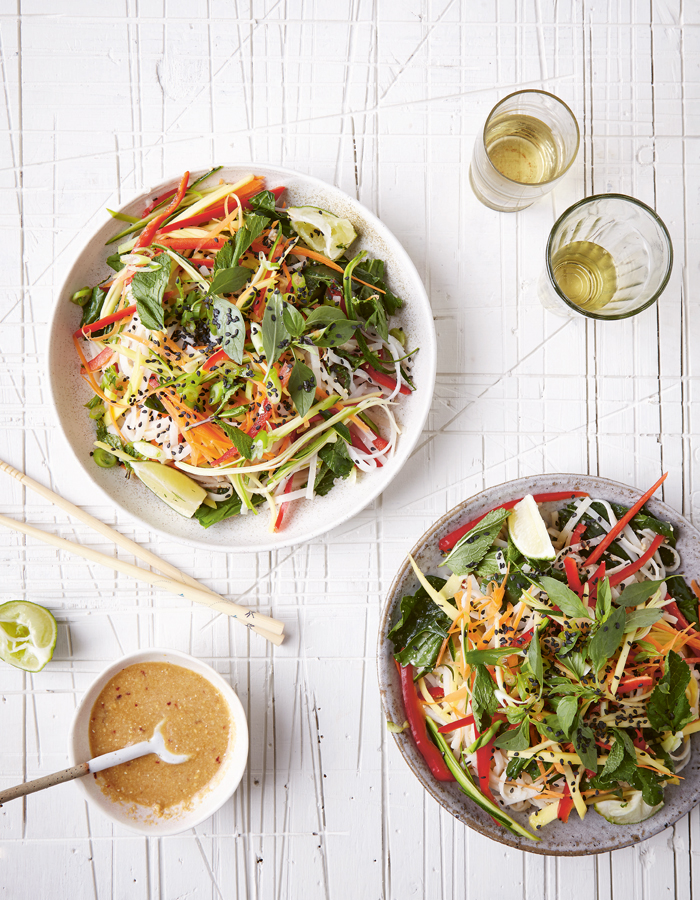 Take for example Bettina's spicy Thai noodles with creamy peanut dressing recipe – a great way to include as many vegetables as possible, with a spicy sauce that makes anything taste amazing.
Rice noodles form the base of the dish, topped with carrot, zucchini, red and yellow capsicum, mango, spring onions and spinach, to present a colourful and textured bowl of goodness.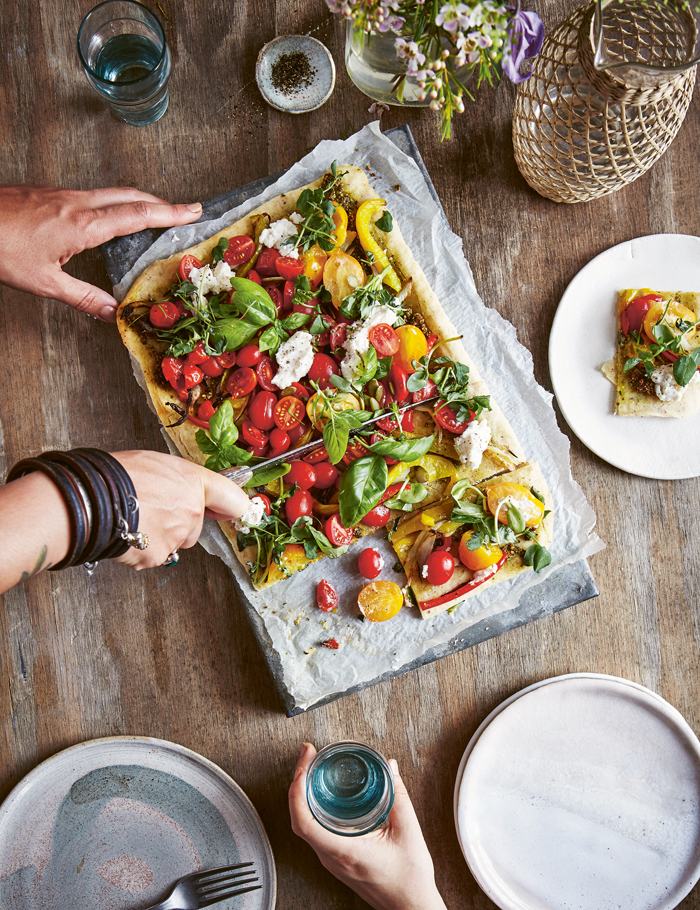 Did you say pizza? Bettina loves a good pizza, but it is one of the big no-no's when trying to go gluten free, unless you make her hazelnut crust pizza with peppery rocket.
The base is made from gluten-free flour and ground hazelnuts, then smothered with pumpkin seed pesto, red onion, sun-dried and cherry tomatoes, rocket and capsicum. The pizza base can be pre-made and frozen until needed, making it a great dish for those who are time poor.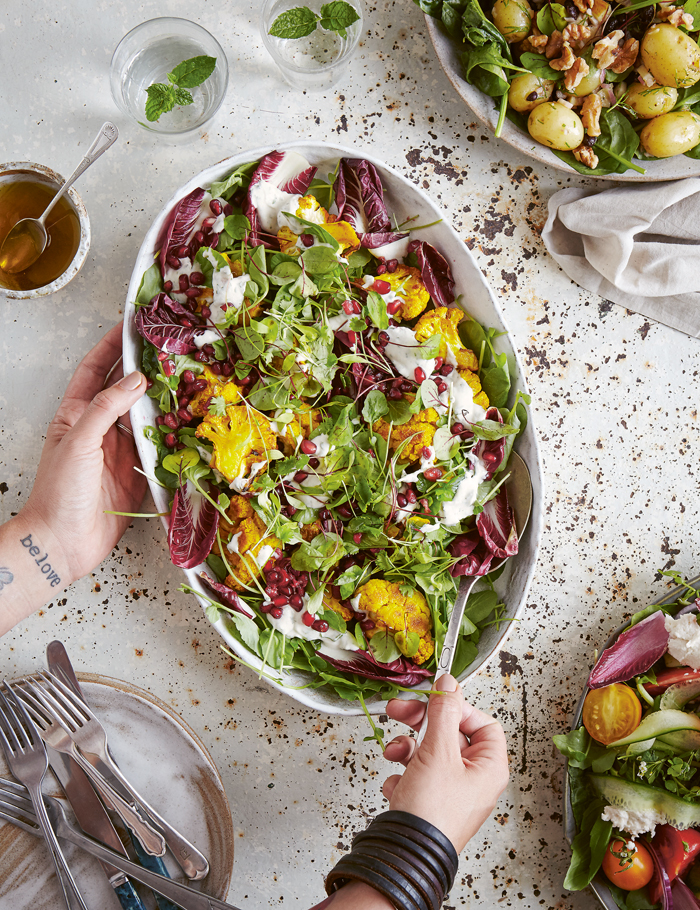 Cauliflower is not everyone's favourite vegetable… prepare to be won over by Bettina's marinated maple and turmeric-roasted version with yoghurt sauce. Use cashew or any plant yoghurt for the sauce, while the addition of chopped mint, coriander and lemon gives a nice bite to the crunchiness of the salad.
All the recipes in the book are designed to serve two, but can easily be adapted to four serves to meet the needs of any modern household, with a focus on minimising waste and maximising pantry staples.
"When I was younger I desperately wanted to become an artist. I guess I found a way to express what my heart feels on every plate that comes out of my kitchen."
Happy Food will make your eyes and taste buds sing with joy and possibly convert some of the carnivores out there to switch sides.
This is an edited extract from Happy Food by Bettina Campolucci Bordi published by Hardie Grant Books RRP $34.99 AU and is available in stores nationally. Photo Credits: Nassima Rothacker.