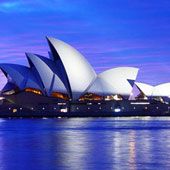 It's one thing to appreciate the Sydney Opera House from a distance or even via a quick in and out peek, but to truly get a feel of what magic goes on inside, a trip to the opera is a must. Although only a relatively new attraction to the sunny shores, the Sydney Opera House is one of the most recognized Australian icons in the world due to its spectacularly unique architecture. The Opera House has been world heritage listed since 2007 and takes in over seven million tourists and visitors a year.
A few words from Sydney Opera House
If opera isn't your cultural activity of choice, a variety of different performances are held at the Sydney Opera House, including plays, dances, theatre and music concerts. At any rate, a trip to the Opera House is an excuse for you to step out in style and elegance, dressing to the nines for a performance at eight. Why not make it dinner and a show, dining at the Opera House's very own restaurant, Guillaume at Bennelong – or do the truly Aussie thing and visit one of the six bars.

In 1957, a young Danish architect, dreaming of Bennelong Point, designed a masterpiece which pushed the boundaries of creativity and science – and put Sydney on the map forever. The Sydney Opera House is one of the architectural wonders of the world – arguably the best known building of the 20th century, with its design and construction involving countless innovative design ideas and construction techniques.

Jørn Utzon was this young Danish architect and in 1999, aged 81, he was re-engaged to develop a set of Design Principles to act as a guide for all future changes to the building.

This is believed to be an unprecedented situation – to have the architect of one of the world's most iconic buildings back working on his creation more than 30 years after he was last involved.

The building's cultural, heritage and architectural importance will now be protected forever, thanks to its inclusion in 2007 on the World Heritage List and in 2003, on the State Heritage Register, exactly 30 years after its official opening.

Jørn Utzon said in 2003: "To me it is a great joy to know how much the building is loved, by Australians in general and by Sydneysiders in particular".
Sydney Opera House, Sydney CBD 2000 NSW - See Map
Payments Accepted: Visa, Mastercard, Amex, Eftpos
Other options around Sydney CBD