Spanish Breakfast Pan
Ingredients
1/2 chorizo sausage, sliced in rounds
2 cloves garlic, crushed
2 Tbs red onion, finely chopped
large pinch black pepper
1 Tbs olive oil
1 tomato, finely chopped
pinch sugar
pinch sea salt
1 Tbs parsley, chopped
1 egg
4–5 black olives
grated parmesan cheese, to garnish
cayenne pepper (optional)

Method
Preheat oven to 180°C/350°F.

Cook chorizo in frying pan for 1 min each side or until they start to crisp. Remove from pan and set aside on paper towel.

In a separate pan, sauté garlic, onion and pepper in olive oil till soft (do not brown) then add tomato, sugar, 2 tablespoons water and salt and continue to cook on high heat for 5 to 7 minutes.

Chop chorizo into small chunks then add it to the tomato mixture with the parsley.

Place tomato mixture into a baking dish and make a well in the middle.

Crack the egg into the well and place 4 to 5 olives around the egg.

Garnish with grated parmesan, fresh parsley and a little cayenne pepper for some
spice.

Cook in the oven for 12 minutes or until egg is cooked.

1 breakfast pan per person.

Note: You can easily make this dish vegetarian if you like. Instead of chorizo, just add 3 or 4 oyster mushrooms.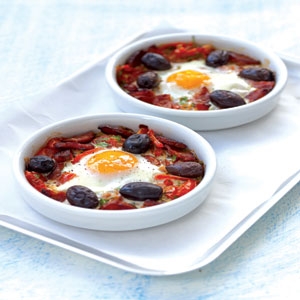 Serves: 1
Recipe provided by This recipe comes courtesy of Adam and Jade Brand's book, 'Life, Love and Cooking', published by New Holland.