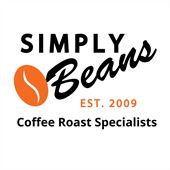 Best Known For
With 5 grinders always on the go there is lots to choose from for your coffee beverage, as well as the brewing method of your choice.
Keep on keeping on with a detour via Simply Beans café on Compton Road in Logan, picking up a kick of caffeine and a bite to eat before heading home for the afternoon. Filled with items to cover all coffee consumption needs, find shelves of roasting equipment and keep cups, bottles of flavoured syrups and bags of coffee beans as tantalising aromas waft throughout this much-loved locale. Blending and roasting specialty boutique coffee with flair, Simply Beans also provides a short but sweet menu of delectable options to satisfy pangs of hunger. If stopping in early morning, go for Swiss toasted muesli with Greek yoghurt and a drizzle of honey topped with berry compote while lunchtime visits may result in a vibrant seasonal salad followed by a sugar glazed croissant.
A few words from Simply Beans
Simply Beans takes pride in blending and roasting coffee with passion and precision. Come in and see us in the espresso bar.

Simply Beans will be able to help you with all your coffee needs, machine purchases, coffee accessories, barista training, contract roasting and of course great coffee 'Coffee of Distinction.' Founded in 2009 by Master Coffee Roaster Giuseppe Anapo.

Awards:

Bronze Golden Bean 2009-2010 - Supremo- Milk Based
Bronze Sydney Royal 2010- Supremo - Milk Based
Silver Melbourne Fine Foods 2012 - Terra Mist - Espresso
Bronze Golden Bean 2012-13 - Terra Mist - Espresso
Bronze Sydney Royal 2013 - Heavenly Mocha - Espresso
Bronze Sydney Royal 2013 - Heavenly Mocha - Milk Based
Bronze Melbourne International 2013 - Supremo - Milk Based
Silver Sydney Royal 2014 - Davero - Espresso
Bronze Sydney Royal 2014 - Davero - Milk Based
Bronze Sydney Royal 2014 - Mexican Finca Kassandra - Milk Based

Products:
Hand roasted multi awarded blends and single origins in take home packs. A one stop coffee house retailing, all things to do with coffee, from Domestic Espresso Machines and Grinders, to the latest brewing gear and accessories. Espresso Bar with 5 coffees in the grinders to chose from daily, complemented by a gourmet selection of light meals and sweets.
10-14 Compton Road Underwood, Logan Central 4114 QLD - See Map
Payments Accepted: Visa, Mastercard, Eftpos
Seats: 35
Roastery Tours. Get an overview of the Roastery and history of coffee great for School groups etc. Hear about the history of coffee and how it gets from the tree to the roaster, with an overview of the workings and story of our Roastery. Enjoy a regular coffee and sweet from our Espresso Bar. Minimum of 5 per group. Price negotiable for larger groups.