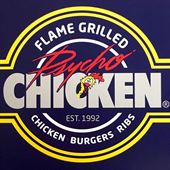 Best Known For
Flame grilled Angus beef burgers and marinated flame grilled chicken burgers, sides and Psycho Shakes
Life is best served with a side of tasty soul food at Psycho Chicken on Hill Street in Roseville. After nearly 30 years refining recipes, this fast-food joint has made its mark on the Sydney burger scene with an emphasis on fresh ingredients prepared onsite daily. Perch on a red stool at the window and people watch, or sit alfresco and choose from a finger-lickin' menu ranging from gourmet salads and succulent roast chicken to American-style ribs and hot tasty sides. Chow down on a signature Psycho burger, with flame-grilled beef, melted cheese, onion, lettuce, tomato sauce and mayo; or a chicken pita wrap, with crisp lettuce, tomato, Spanish onion and garlic aioli. Perhaps take home half a chicken, or smoky pork ribs, along with a traditional Greek salad for a quick weekday meal.
A few words from Psycho Chicken
Postcoder.com.au Article

Crazy Good: Psycho Chicken http://www.postcoder.com.au/sydney/crazy-good-psycho-chicken/

Psycho Chicken


Katrina Vanos is the first to admit it – naming your business Psycho Chicken is a bit 'out there'. Sure, it gets you plenty of attention, but will people take a bite? The answer is resoundingly, 'Yes'. After 26 years in the industry, Katrina has watched as the appetite for Psycho Chicken has kept growing. 'It's definitely a name that gets you noticed,' she smiles, 'but attention isn't enough. You have to be able to back up your bravado with something pretty special, and Psycho Chicken is definitely special.'

Katrina's Roseville store front is the latest in a line-up of Psycho Chicken stores that have popped up around Sydney over the last few decades. Katrina has owned and worked in them all over the years, but she has recently decided to concentrate her efforts on the Roseville address. She says, 'Delivering the best dining experience possible is what I'm all about – for me working solely on the Roseville store means I'm able to channel every ounce of energy and excitement into one place.'

What sets Psycho Chicken apart is the fact that it takes the typical 'chicken shop' template and amps up every aspect of the enterprise to 'psycho' level. That means the food is fresh, wholesome and all made on site. Katrina says, 95% of everything is made here. We do our own sauces, marinades, our own unique salads and our own selection of sweets. You can taste the quality of our Angus Beef and our flame-grilled chicken.'

While many might consider burgers an 'indulgent' fast food, Katrina doesn't see Psycho Chicken's offerings that way. 'Health is a priority for us. Our burgers are flame grilled, lean and naked if you don't want the bun. We also offer heaps of protein hearty salad meals. I think that's why we see so many customers more than once a week – our food is nothing to feel guilty about!' Add to that the fact that Psycho Chicken has a comprehensive gluten free offering as well as vegan options on the menu, there's a reason why business is booming!

Another reason might be because Katrina has a secret weapon – an international understanding of what it takes to deliver the ultimate customer service experience. She explains, 'I got my Degree in hospitality in Las Vegas. It's the number one destination for anyone serious about working in the industry. In my time there I learnt what it is to put the customer front and centre of every business decision you make. I learnt that the experience of dining somewhere has to be perfected at every step.' That simple philosophy is the bedrock of her business and informs whom she hires as staff. 'I am looking for the same level of commitment to customer service from staff as I do from myself.' She says.

So what does this committed foodie want to excel at next? 'Catering!' Katrina says. 'Psycho Chicken is a hit with private gatherings, corporate businesses and local schools, so we are asking people to bring it on – Psycho Chicken can come to you!'... and with that Katrina is off and running, the lunch rush is beginning and it's time to char some chicken and burgers to 'psycho' perfection!

63 Hill Street, Roseville 2069 NSW - See Map
Payments Accepted: Visa, Mastercard, Eftpos
Seats: 14
Other options around Roseville