Ludovic Baulacky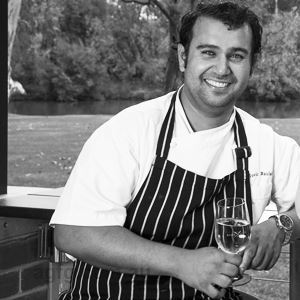 Restaurants Albury
Commanding attention as an elegant regional dining destination is The River Deck café, nestled in Albury's Noreuil Park ...
Born:
Mauritius
I left
Mauritius
at age 16 and finished my HSC in London. I went to a uni open day and decided to start at the University of West London to do a NVQ cooking diploma and as the years went by, I went on to complete a BSC in Culinary Arts before working for celebrity Chefs in London, including Gary Rhodes, Gordon Ramsay and Albert Roux. I came back to Australia to work under the Sofitel group, then decided to move on and start to make my way up the ladder. I moved to North East Victoria where I worked for Brown Brothers, Sam Miranda, Watermark and The Stanley Hotel, before I went on to Echuca and was approached to put the restaurant back on the books of AGFG and earned their Hat back in 2014. I then moved back home to Beechworth, after Oscar W's closed and The River Deck employed me as their head Chef.
Have you always wanted to be a chef?

No, I wanted to finish my studies and have a white collar job. One day I ended up going to Le Gavroche in London for dinner with my God Father, who is a good friend of Albert Roux. He introduced me to Chef Albert who talked me into cooking and took me under his wing for a very long time.
How would you define your style?

Modern Australian with a twist of the old school French.

What is your feature flavour these days?

Leave the ingredient or protein to speak for itself.

Obsessive compulsive about?

Tidiness and cleanliness. I am also obsessive about all elements on the plate going out exactly the same way, always keeping consistency.
Your greatest culinary inspirations or influence?

Albert and Michel Roux, my two mentors.
What do you love about the business?

The pressure, the challenge and ability to work with great, fresh ingredients, I love to feel, smell and cook with them.