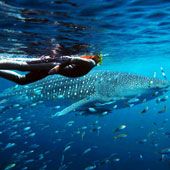 A virtually untouched barrier reef off the North West Cape of Western Australia, Ningaloo Reef is home to the largest fish in the world, the Whale Shark. But don't let the gentle giants discourage you. An abundance of marine life, including soft and hard corals, sea snakes, turtles and over 500 species of tropical fish also live there too. Australia's largest fringing coral reef, Ningaloo Reef is a majestic display of aquatic life in clear tropical waters, 260 kilometres of untouched beauty in a brilliant white sandy lagoon. One of the rare places on earth where you can walk from the beach straight into coral reef, Ningaloo is a destination to be discovered at all ages with snorkel and mask.
A few words from Ningaloo Reef
Listed as a world heritage site, Ningaloo Reef has gained significant tourist interest and a remarkable reputation as one of earth's largest ocean paradises. From mid March to mid May each year, Ningaloo Reef offers the chance to go diving with the whale sharks, a beautiful fish who happens to reach an impressive 12 metres in length and chimes in at more than 11 tonnes. Since the sharks often swim close to the surface, scuba gear is not required and as an extra piece of luck, the sharks also happen to be plankton feeders, so your legs will remain firmly intact to continue exploring the pristine beauty of the reef.

Ningaloo Reef is also an access point to the mass coral spawning, a three day event after the full moon in March and April where millions of bright pink eggs are simultaneously released. Rest assured, with the many coloured tropical fish swimming through the shallows on a year round basis, Ningaloo Reef is a hotspot for all seasons.
Other options around Coral Bay