Situated in North Melbourne's Coburg, inside a generic grey block of a building aptly named Space Tank Studio, is the industrial work place for the much coveted Cut Throat Knives. Bladesmith and founder Aidan Mackinnon creates high carbon or stainless, kitchen and cheese knives with the goal in mind of enhancing kitchen experiences all over the world. In addition to the range of awe inspiring blades, is the Cut Throat Block, a wooden 'end grain' chopping block the team refers to as the knives' partner in crime. Opt for the classic 8 inch Chef's knife, the kitchen's Jack of all trades, or perhaps for bigger jobs and some carving, go for the 9 and a half inch Sabatier. A handmade kangaroo Leather Chef's Roll is also worth considering, to protect your handcrafted new blade while it rests.
A few words from Cut Throat Knives
The knife is the oldest tool in a chef's armoury - older even than the management of fire, by somewhere between a million and two million years. Even at the earliest stages of human tool making, man was not randomly slashing at his food, but making careful decisions about which cuts to make with which tools. Knives are often our primary interaction between ourselves and our food - It is with this in mind that Cut Throat Knives are designed to enhance the cooking experience.

Bladesmith Aidan Mackinnon is part of a new generation of knife makers, focusing on creating high-end bespoke kitchen tools for avid home cooks and chefs.

Aidan handcrafts all the knives in his shop. Starting with a hunk of steel and a slab of wood he works to create beautiful knives that perform at the very highest level for a lifetime of service and enjoyment. Each Knife spends 15-20 hours in his hands.

Aidan uses a variety of steels, high carbon and stainless, chosen because they excel in the kitchen environment. The handles are made with Australian hardwoods and are sealed with a variety of oils and wax to bring out the beauty of the burl.

Quality has no substitute; throwaway culture deserves disposal; and time-honoured skills are worthy of recognition.
Space Tank Studios, 9 Warner St,, North Coburg 3058 VIC - See Map
More From Cut Throat Knives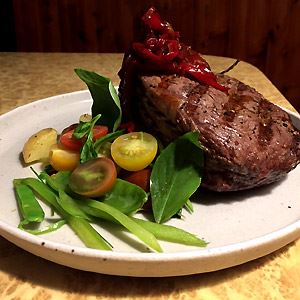 Recipes
Other options around North Coburg