Spanner Crab and Prawn Crackers - Chef Recipe by Howard Stamp
Ingredients
Prawn Crackers:

Prepare at least one day ahead
375 g raw prawn meat
3 tsp salt
4 tsp chardonnay vinegar or white balsamic vinegar
1 small chilli, de-seeded
20 g peeled and chopped ginger
375 g tapioca flour

Pickled Shallot:

1 shallot
120 g caster sugar
160 ml white wine vinegar

120 g cooked crab meat (from fresh crabs preferably, frozen or tinned meat of good quality can be used)
1 Tbs chopped chives
2 Tbs aioli/mayonnaise
Espelette pepper, or light chilli powder
Dill for garnish
Method
Prawn Crackers:

Add all ingredients, except the flour, into a food processor. Puree very well, then add tapioca flour and mix for a further minute. Take mixture and knead until smooth. Roll into logs 4-5 cm thick, using cling wrap and tie log securely at each end. Repeat with the rest of the mixture.

Steam logs for 1 1/2 hours, then chill overnight.

When set, thinly slice into 2 mm rounds, place on a tray and dry in a very low oven at 60 C for 30-40 minutes until just crisp. From this stage, the crackers will last a week in a sealed container.

When required, deep fry prawn cracker slices for 20-40 seconds until they puff up. Drain on a paper towel.

Pickled Shallot:

Bring white wine vinegar and sugar to the boil and pour hot over the shallot, which has been sliced thinly into rings. Leave for one hour, but will last for a week in the fridge.

To assemble:

Mix crab meat with chives and season with salt and pepper.

Place a small amount of aioli on each cracker, then divide the crab between the crackers, add a shallot ring, sprig of dill and pinch of espelette pepper to each before serving.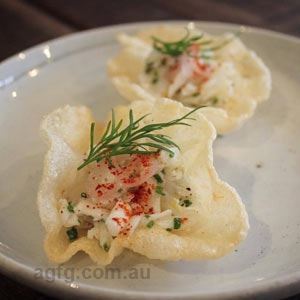 Serves: 12
Prep:30 mins
Cook:10 mins
Recipe provided by The Lincoln