Rose Petal and Pistachio Kulfi
Ingredients
600ml whole milk
300ml double cream
100ml rose syrup
1/2 tsp ground cardamom
Petals from 2 unsprayed red roses, washed and finely chopped
2 tbsp finely chopped pistachios
Method
Bring milk and cream to the boil in a heavy based saucepan.

Reduce heat and simmer whilst stirring continuously util mixture has reduced to one third its original volume. Allow to cool.

Add rose syrup, cardamom and rose petals and allow to cool before placing in the fridge for three hours.

Churn the milky mixture in an ice cream machine until it begins to set. Scoop into dariole moulds or ramekin dishes.

Freeze for 3-4 hours or until well set.

To serve, slightly soften kulfi in fridge 10 minutes prior to dishing out and sprinkle over pistachios.
Equipment
Heavy wide based pan
Ice cream machine
Dariole moulds or ramekin dishes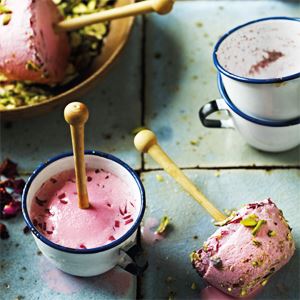 Serves: 6
Recipe provided by Reza's Indian Spice by Reza Mahammad
Photo by Martin Poole