Peach and Raspberry Eton Mess
Ingredients
2 Tbsp gluten free custard powder
2 cups Vitasoy Soy Milky Lite
1 tsp vanilla extract
3 Tbsp caster sugar
3 large ripe fresh peaches, diced
250 g fresh raspberries
1/4 cup caster sugar
50 g gluten free ready-made meringue shells, broken into bite-size pieces
Pure icing sugar for dusting
Method
In a small bowl, combine gluten free custard powder and 1/4 cup Vitasoy Soy Milky Lite. Mix to form a smooth paste. Set aside.
In a medium non-stick saucepan, heat remaining Vitasoy Soy Milky Lite, vanilla extract and caster sugar over medium high heat.

When almost boiling, turn heat down to low and stir through the custard powder paste. Mix until well combined and custard has thickened.

Set aside to cool to room temperature and then place in the refrigerator to cool completely. Cooled custard should be a thick pouring consistency.

When custard has cooled, pour into a large mixing bowl. Add diced peaches, raspberries (reserve 6) and broken meringue pieces. Stir through until well combined.

Pour into parfait glasses (or other serving glasses). Dust with pure icing sugar and decorate with extra raspberries and serve immediately.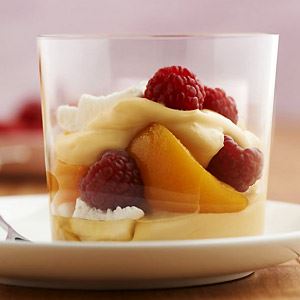 Serves: 4
Prep:10 mins
Cook:15 mins
Recipe provided by My Food Book