Japanese inspired Chicken and Egg soup Chef Recipe by Shawn Sheather
Ingredients
Stock base:

2 L chicken stock
1 Tbsp sugar
4 Tbsp Soy sauce
3 Tbsp Mirin

Soup filling:

3 chicken breasts. Hint: you can use thigh fillets as well.
6 large eggs.
6 spring onion. Hint: use the bass to infuse the stock.
150 g snow pea sprouts. Hint: cut in half length ways, use top for garnish. Add the base to the soup just prior to serving.

Rice:

2 cups of short grain rice, and water to cook.

Fresh Garnish:

Snow pea sprouts, use the tops of the 150 g from soup filling.
150 g beans shoots.
50 g spring onion tops, use some of the tops from the soup filling.
Method
Rice:

Rinse or wash the rice till the water runs clear.
Heat or cook the rice on a slow heat so the rice grain stays intact.
Hint: cook till just cooked, as the rice will be the base in the bowl and covered with more liquid for serving.

Soup stock:

Bring the stock to boil, you can add the soy sauce, mirin and sugar.
Then reduce heat to medium.

Soup filling:

Cut the chicken into small pieces and add to the stock. Cook for 3-4 min.
Cut the spring onions into small rounds, about 1/2 cm and add the white basses to the soup. Hint: keep the green cut tops to add later.
Cut the snow pea sprouts in half, add the basses to the soup, again keep the green tops for later.
Whisk the eggs lightly in a bowl.
Pour gently into the soup.
Hint: add the egg in small amounts all around the saucepan. also don't stir for 3 min.
Add 1/2 the green spring onion tops.

Just prior to serving stir the eggs gently.

Garnish:

Mix the bean shoots and the remaining spring onion tops with the snow pea sprout tops.

Serving :

Once the rice is cooked, drain and rinse with fresh boiling water.
Divide into the 8 bowls.

Place the Chicken eggs and Japanese soup over the rice.
Hint Pour the soup over the rice carefully as to not break up the soft egg.
Garnish with the fresh green mix.

Enjoy.



Equipment
2 Saucepans
knife
chopping board
Ladle
Wooden spoon
Measuring cups and spoons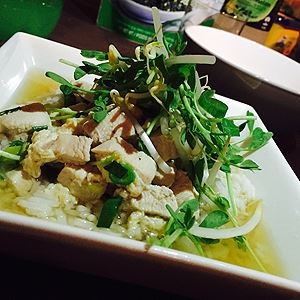 Serves: 8
Prep:10 mins
Cook:15 mins
Recipe provided by AGFG Resident Chef Shawn Sheather & Hiyori Yamada
Photo by AGFG Resident Chef Shawn Sheather