Five Layer Tiramisu - Chef Recipe by Paolo Masciopinto
Ingredients
100 ml coffee
1 leaf (2 g) gelatin
4 savoiardi biscuit
100 g mascarpone
100 g cream
100 g sugar
4 egg yolk
50 g marsala
Cocoa powder to dust


Method
For the coffee base, bring coffee to a boil and add gelatin, mixing well. Add sugar to the coffee mixture to sweeten to taste. Weigh 25 gm of coffee mixture and place in a martini glass. (You will need 4 glasses for this). Once complete, place glasses in the fridge to set.

For the mascarpone mousse, whip the cream with 50 g of sugar in a bowl. Once added, fold in mascarpone to create a mascarpone mousse.

For the zabaione, mix egg yolks and 50 g marsala. Bring to 60 degrees on a bain marie. Make sure to continuously whisk mixture until 60 degrees is reached and remove immediately once reached.

To assemble, remove glasses from fridge. Cut savoiardi biscuit into pieces and place on top of coffee jelly. Cover biscuits with mascarpone mouse and top with hot zabaione. Dust with cocoa powder to finish.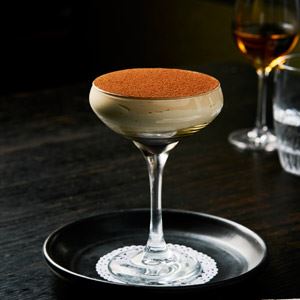 Serves: 4
Recipe provided by Sarti