Ram Prasad Sapkota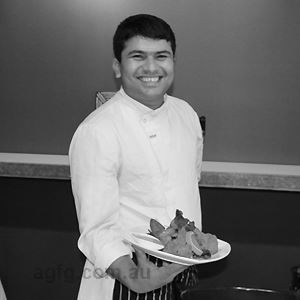 Restaurants Port Melbourne
For a fusion feast in Port Melbourne, be sure to experience a diversity of food and flavour at Aagaman Indian Nepalese R...
Born:
Gulmi,Nepal
History:
My passion for cooking has been nourished and inspired since my childhood, my mother has been the major source of motivation, who encouraged me to cook for the family at home and even at festive family gatherings. When friends and family would be appreciative of my cooking skills, I knew this ought to be my profession, because I realised my love for food and cooking gave me a profound sense of happiness.
Growing up in a tiny village town, Gulmi in Nepal, I had several challenges to overcome, breaking the stereotype of a small town boy, I have dedicated over 13 years in the food industry in India, Nepal and Australia.
I have always had a profound sense of time, I believe in the ethos- "time and tide wait for none". I have realised that with cooking the best dish, simple is beautiful. I would maintain that the most important elements of an excellent dining experience are fresh ingredients, just the right seasoning and the right flavour profiling.
I am glad my inner love for food and passion for cooking led me to Australia, where I gained invaluable experience in Melbourne, the Gold Coast as well as the regional city of Wangaratta. In spite of my extensive cooking experience in India and Nepal I was keen to attend culinary school in Australia. My diploma in commercial cooking, gave me a thorough understanding with the food and wine culture in Australia. Fortunately my experience has not been specific to one mentor or cuisine, it's been drawn from a number of cultural backgrounds.
Have you always wanted to be a Chef?
Love for food came at a very young age for me growing up, I always imagined this to be something very magical, I enjoyed the time I spent with my mum in the kitchen as well as the profound sense of happiness I felt when creating new flavours and dishes out of ingredients that were both visible and invisible but felt on the taste buds. I can't imagine what I would do apart from cooking; my kitchen at the restaurant is my workshop where I get immense pleasure and happiness from creating new dishes and recipes with different ingredients.
How would you define your style?

The base to my style would always be to use fresh, seasonal and organic products. I like to add a modern twist to classical dishes, which creates a fusion. I have tried my best to showcase my style with the menu at my new restaurant "aagaman" - a new beginning, not forgetting the classics, but infusing new cooking methods and trying to deliver a sublime experience for my patrons.
This I must say is a work in progress as I am constantly taking feedback from guests, customers, mentors and industry experts.
What is your feature flavour these days?
A blend of Indian and Tibetan influenced by Nepalese cuisine, which is simple, with subtle flavours, cooked to perfection and absolute no fuss is my broad mantra. I use aromatic herbs in lentils, rice dishes or curries with fresh vegetables or smoky meat, to try an incorporate a twist of Nepalese cuisine on the overall taste of the dish.
Obsessive compulsive about?
I can't stress enough the quality and quantity of ingredients. I believe the proportions of these two factors would outline an excellent dish, it's also very crucial the food is appealing to the eye, I take immense care for the visual presentation of the dish.
Your greatest culinary inspirations/influences:
My greatest culinary inspiration would undoubtedly be my Mum, I have always revered her as an amazing cook with some excellent cooking techniques. She has been my motivation and inspiration with the journey so far.
What do you love about this business?
With the experience gathered over the years, working long hours in the kitchen with different establishments over the past 13 years, the thought of owning and managing a restaurant business came naturally. I believe in treating customers as my personal guests, just like friends and family visiting home and I am always looking to exceed their expectations and give them a memorable experience.
An ingredient you can't live without?
Onion.
Most 'eyebrow raising' menu item?
Tandoori salmon, gulmeli lamb and Nepalese momo.
Signature dish:

Dark chocolate samosa.

More Chefs