Giles Hohnen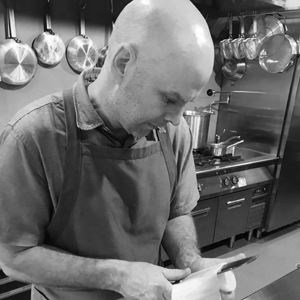 Restaurants Noosa Heads
Escape the everyday grind with an organic wine at Sumi Open Kitchen on Sunshine Beach Road in Noosa Heads. As this Japan...
Born:
Australia.
History:
I was raised on Cape Mentelle Winery, on a diet of good food and wine. I took the first opportunity to work for a Chef that was catering for a Cabernet tasting, later I apprenticed at Steve's Hotel, Perth.
Have you always wanted to be a Chef?
I have always gone back to cooking, relentlessly pursuing unfinished business.
How would you define your style?
Hands on simple home style cooking.
What is your feature flavour these days?
Miso.
Obsessive compulsive about?
Freshness and simplicity.
Your greatest culinary inspirations/influences:
Lou Chang Boon and Martin Boetz.
What do you love about this business?
Social interaction, creativity and randomness.
Most 'eyebrow raising' menu item?
Kushiyaki (skewered and grilled, poultry and non-poultry).
Signature dish:
Spanish mackerel marinated in Sake kasu and miso.
More Chefs